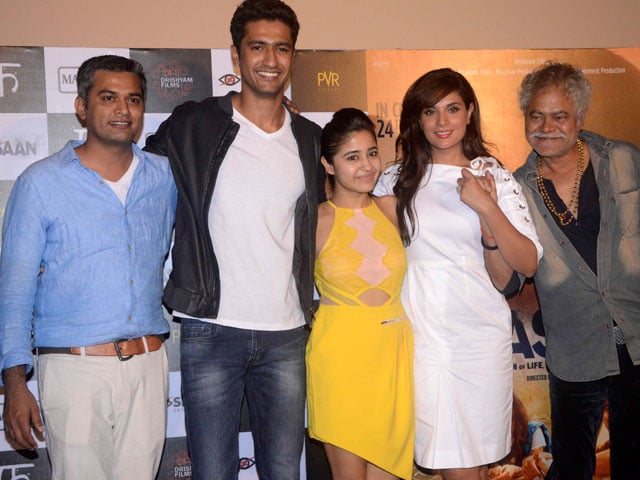 Kolkata:
Set in modern-day Varanasi, Neeraj Ghaywan's debut project
Masaan
, which wowed the critics at the Cannes Film Festival in may, steered clear of cliches associated with the holy Indian city. Neeraj maintained that the film, which released on July 24, is about India in transition and doesn't peddle poverty as Twitter trolls suggest.
"I am actually getting that (criticism on peddling poverty) already. There are a lot of Twitter trolls who are asking 'Oh! is he just another filmmaker who is peddling poverty and cashing in on it?'," he told IANS in an interview.
"But trust me when you watch the film, you know that this is the thing we (me and my writer Varun Grover) also hate equally. The film has got to do with characters and their inter-personal stories. It has got nothing to do with the socio-political bias," the director clarified.
The film, which stars Richa Chadha, Sanjay Mishra, Shweta Tripathi and Vicky Kaushal, won two awards at the 68th Cannes International Film Festival. The film has won the acclaimed FIPRESCI, Promising Future awards at Cannes. It also received a five-minute standing ovation after its screening in May.
The film's story, set against the backdrop of the
ghats
of Benaras, revolves around four intersecting lives - a low-caste boy falling hopelessly in love, a daughter ridden with guilt of a sexual encounter ending in a tragedy, a hapless father with fading morality, and a spirited child yearning for a family - long to escape the moral constructs of a small town.
Through
Masaan
, Neeraj wanted to revive the "innocence" of small town romance seen in old Bollywood movies like
Nadiya Ke Paar
.
He also made a conscious decision to show small cities in a "different light" and narrate how Benaras is evolving instead of "exoticising" the famed ancient city situated along river Ganga in Uttar Pradesh.
"So you won't see the
aarti
at Dashashwamedh
ghat
, the naked
sadhus
and other examples synonymous with Varanasi," he said.
"We did not want to show that part. The characters and stories are more important so we wanted to stay away from that. It was a deliberate choice in scripting. We are not showing cycle rickshaws. We are showing e-rickshaws, mini taxis and the youth talking about ambition. Though they are from lower-middle class, they are hanging out on Facebook. They are talking about evolution theory and so on. We are showing how India is in a transitional phase," he added.
Bollywood celebrities like Javed Akhtar and Shabana Azmi have lauded the thought-provoking movie and have called it a 'beautiful, great and outstanding film'.
Globally, it has received commendations from personalities such as French actress Marion Cotillard, who took it upon herself to promote its release in her country last month.
Why has an Indian offbeat film sparked such a tremendous amount of interest?
Neeraj said that this is because the film has portrayed "genuine Indian emotions" honestly.
"I am receiving praises about how the film is being loved by everyone and not just the youth. I am talking about every age bracket. This is because basic emotions at the root level are the same. A father and daughter in France are culturally and socially very different from us, but the way the father cares for a daughter remains the same," he shared. "And we have been very honest. Generally, festival films show muted reactions; very European sensibilities of emotions. But we are trying to show genuine Indian emotions," the filmmaker concluded.