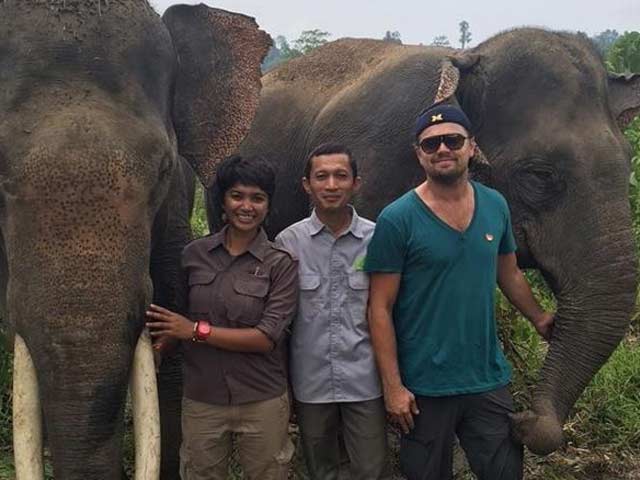 Highlights
Leonardo had asked people to stand up against 'palm oil expansi
Indonesia is the world's largest producer of palm oil
Leonardo had also Instagrammed an image of himself with orangutans
Bangkok:
Hollywood actor Leonardo DiCaprio has been slammed by the Indonesian government over his visit to the Gunung Leuser National Park in northern Sumatra, where he met with environmental activists and urged the public on social media to stand up against 'palm oil expansion'.
Leonardo DiCaprio, who had Instagrammed an image of himself with orangutans and local environmentalists, captioned it, "A world-class biodiversity hotspot, the Indonesian Leuser Ecosystem is one of the most important areas of intact rainforest left in Southeast Asia. Its forests are home to the densest remaining populations of the critically endangered Sumatran orangutan. But palm oil expansion is destroying this unique place"
After being alerted to the publicity around palm oil that the actor was generating, immigration authorities on Thursday threatened to deport him on the charges that his visa to Indonesia only permitted him to do 'tourist activities', reported several
local publications
.
"If he is in Indonesia for other purposes, such as creating a public disturbance and harming the state's interests, immigration is ready to deport him," Ronny F Sompi, director general of Immigration department was quoting as saying.
According to the environmental non-profit organisation Rainforest Rescue, Indonesia is the world's largest producer of palm oil, which contributes to around half of the Southeast Asian nation's annual GDP and has led to the destruction of at least nine million hectares of indigenous rainforest.