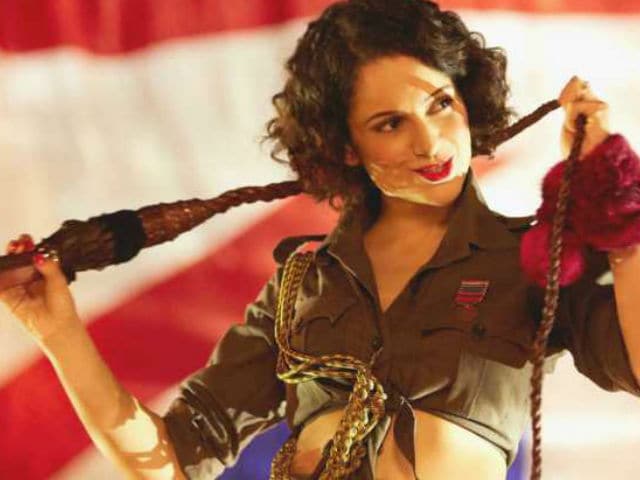 Highlights
Kangana's portrayal of Miss Julia invites comparison with Fearless Nadia
The Australian star's brother-in-law is reportedly suing Rangoon makers
Kangana says Rangoon is a "completely a fictional story"
New Delhi:
Actress Kangana Ranaut's character in
Rangoon
is a feisty '40s film star named Miss Julia and several comparisons have been made to Fearless Nadia, the Australian star who headlined several Bollywood action films of the 1930s and 40s. The resemblance has not escaped the attention of the actress' estate which has reportedly filed a lawsuit against the film. Speaking to news agency IANS, Kangana distanced herself and the film from the late actress, insisting that
Miss Julia is entirely fictional
and not drawn from real life. "I think there is some legal hassle around that. First of all, we cannot comment on a matter when it's already in the court, but we can assure you that it's not based on any living or dead person," Kangana told IANS.
The portrayal of Miss Julia, especially her getup in the song
Bloody Hell
complete with whip, invites comparison with Fearless Nadia, whose most famous role was in and as 1935's
Hunterwali
. Production house Wadia Movietone, founded by the actress' brother-in-law, is reportedly suing the makers of
Rangoon
for copyright infringement. Fearless Nadia, real name Mary Ann Evans, performed her own stunts and starred as the lead in several female-led Hindi films of the era. She died in 1996 aged 88.
Watch
Bloody Hell
from
Rangoon
:
Rangoon
, set in war-torn Burma,
is "completely a fictional story"
with "fictional character," Kangana Ranaut told IANS.
Miss Julia, as played by Kangana, is an actress sent to the World War II trenches in Burma as a
wartime entertainer of military troops
. She leaves behind her a sinister film producer who is also her lover, played by Saif Ali Khan. In Burma, she meets and falls for a soldier named Nawab Malik, played by Shahid Kapoor.
Rangoon
opens this Friday.
(With inputs from IANS)