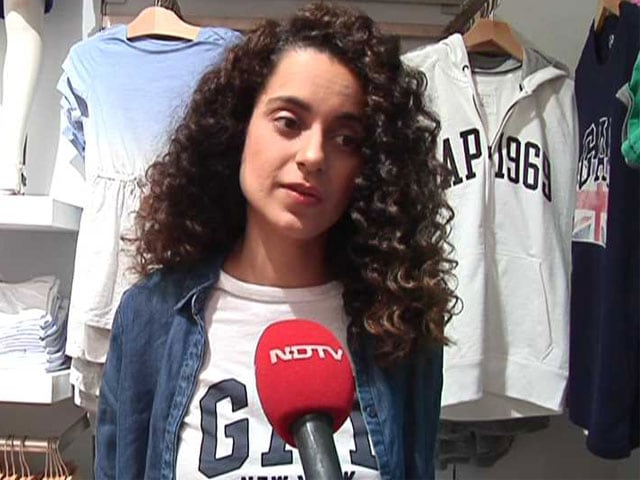 New Delhi:
Serpentine queues, as more than a 1000 people thronged the opening of India's first Gap store, but the long wait was not to get their hands on the brand's cool casual line, but to get a glimpse of Hindi cinema's poster girl of cool, Kangana Ranaut.
It wouldn't be wrong to say nothing tastes like success and reinstating her position as
Queen
of the box office, Kangana Ranaut arrived dressed in denims, a white T-shirt and denim shirt, her curly hair framing her face devoid of make-up and let's say she made simple look chic.
So,
Tanu Weds Manu Returns
has made Rs 100 crore worldwide and is racing towards that milestone at the Indian box office as well. The actress giggled saying, "I am pleased, very pleased and it wouldn't be wrong for me to brag about these that, I can be shallow about these things."
And it's absolutely fine to be shallow and vain about these things as the actress, who is perhaps one of the most powerful performers in the industry, said she was glad that a character like Datto was welcomed, and said that the joke that was viral on social media was that between Datto and Anushka Sharma's Jaggu from
PK
, whose wig came first. "But it's great we have created an iconic character," she added.
So, totally women on top in Bollywood, now no one would look at a women-oriented film and wonder if it's a viable investment or not? The actress responded it was happening slowly the industry needed to be democratic toward women. Even in the golden age of cinema when we had jewels like
Pyaasa
,
Guide
and
Mughal-e-Azam
, the women were strong but were still given secondary status vis-a-vis the hero.
So, what was her take on mega budgets, as small is big in Bollywood currently?
The actress, who will soon be sharing screen space with Saif Ali Khan and Shahid Kapoor in Vishal Bhardwaj's
Rangoon
said, "A film like
Rangoon
is a period film. We will have to spend money to re-create the 1940s and sometimes expenditure is important but unnecessary spending can be avoided and we need to tighten our belts."
So what's Kangana 's take on 'Brand Kangana'? With a twinkle in her eyes, the actress sheepishly smiled and said, "I am cool, am dependable and live up to expectations or make sure that I try to live up to expectations." Exhausted with promotions, shoots and appearances, Kangana's one wish is to chill and shop.
Well, you totally deserve it
Queen
Kangana.
Watch