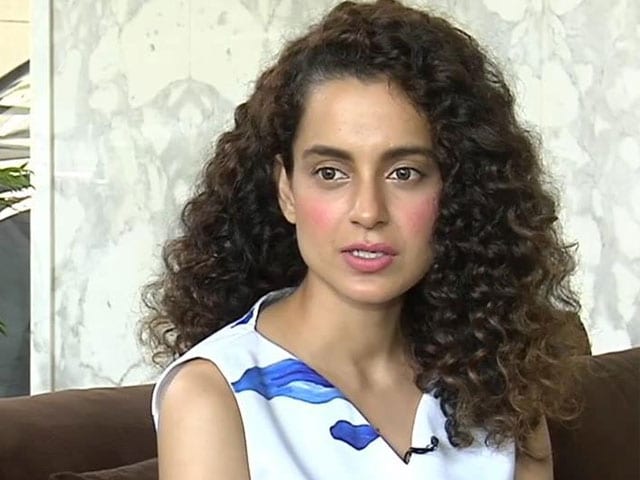 Mumbai:
Nine years ago, when Kangana Ranaut stepped out for the film
Gangster
, no one could have imagined that in less than a decade she would be hailed as the current
Queen
of the box office. And yet, her
Tanu Weds Manu Returns
has just opened to the highest weekend collections of any Bollywood film this year. That's significant for several reasons: the film doesn't boast a huge banner or a huge star cast; this was no mega budget release - in fact, with a spend of Rs 30 crores including their promotions, they're in the green three days in; Kangana is the film's biggest star and both of its leads, and between this and
Queen
she has proved, definitively, that the rules of the game are changing.
But speaking on the first Monday after the release, Kangana is keeping things in perspective: "It feels great. These are very refreshing things , something very new for our industry where you don't have those conventional faces in these films and they are still doing so well. So this a surprise for me as well. I want to go beyond the number game. I want to have a secure place because the number game is for people who are the flavour of season, and I want to make a secure place of my own. and I think to a point I have achieved that."
She may not be keeping count, but the numbers are, in fact, critical. This year for every hero-helmed blockbuster that spent plenty to make plenty, there has also been the low-cost, well-written gamble that's paid off.
Tanu Weds Manu Returns
has already made Rs 55 crore worldwide since releasing last Friday.
Piku
, the delightful, scatology-filled romp starring Deepika Padukone, Amitabh Bachchan and Irrfan Khan, has just crossed the 100 crore mark worldwide, and did it without song, dance or six packs.
Dum Laga Ke Haisha
was the other sleeper hit that stormed the box office, with, first of firsts, an overweight heroine.
Tanu Weds Manu
didn't
Return
because it could, it returned - according to director Aanand L Rai - because it should. "I didn't make the film because I wanted to cash in on the brand. I made it because I had the story. Kangana has the passion for her job. She just loves it and that's the reason why she was able to pull of such a difficult character," he said.
Kangana was, and perhaps to some degree still is, the ultimate outsider. While her breakout performance in
Gangster
in 2009 was critically received as were her follow up films, Kangana herself was not taken terribly seriously at first: she didn't wear the "right" clothes, she didn't hang with the "right" people and she didn't have the "right" accent. Her early 'mentors' were not the most savoury, she struggled, she worked, she held her ground. And now, nine years later, it looks like the last laugh belongs to her. She's setting her own rules, in life, in the movies, and it turns out, in fairness cream advertisements. Or her refusals thereof, like the ad she turned down two years ago in 2013.
"That's why it took me 10 years because I don't do shows, I don't go for awards, I don't dance at weddings and that's why many agencies abandoned me. Me and my sister work because they just couldn't handle (it). I could never understand why should brown people be white. This is not even an acceptable word - 'fair.' People tell me that I don't know English but they should know what is acceptable and what is not. You are pale, you are dark, you are brown or you are black there is nothing called fair. So stop using this humiliating word and I think the government should ban these products and I have actually said no to many such products and that's why you see me in very few endorsements. I think these things are sort of instilling an inferiority complex in our youth, in our women, in our men and it's just stupid," Kangana told NDTV.
It's no "fair is foul" but it works a treat. As, clearly, does she.
Watch