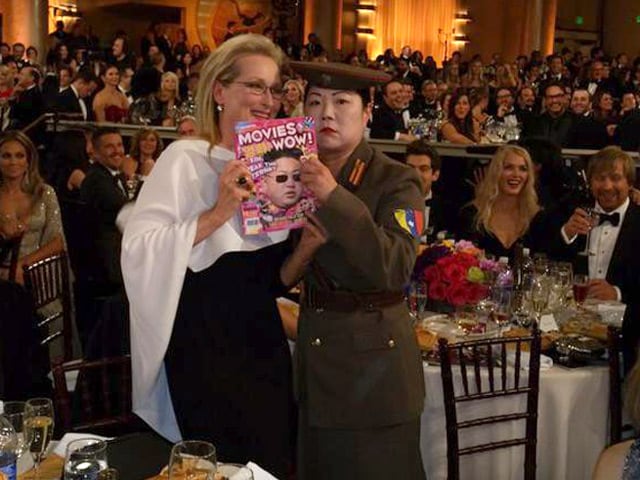 New Delhi:
The Golden Globes, the more irreverent version of the Oscars, turned out to be the expected mix of celebrities gently pickled in alcohol and humour. Here are top five moments from the show.

American comedienne Margaret Cho, who once played a North Korean weather presenter on Globe hosts Tina Fey and Amy Poehler's 30 Rock, showed up as a 'North Korean General,' a reference to The Interview that had little to with subtlety. This General, however, was less interested in hacking into private emails between studios and stars and more concerned with getting a photo with nominee Meryl Streep. She also promised to 'host next year.'

Tina and Amy and Margaret Cho on stage at the #GoldenGlobes. https://t.co/H4FObT7Rp8

— Golden Globe Awards (@goldenglobes) January 12, 2015
Prince also showed up, looking very Prince-like. The crowd of celebrities present had a collective fanboy/girl moment as he presented the Globe for Best Original Score.


Ricky Gervais ought to have left his drink on the table before presenting the Globe for Best Actress - Comedy/Musical. He made a brave attempt at pronouncing 11-year-old Annie star Quvenzhane Wallis' name, saying he'd been practicing it so as to avoid a John Travolta-like flub. He still ended up calling her Queue-ven Johnny, or suchlike.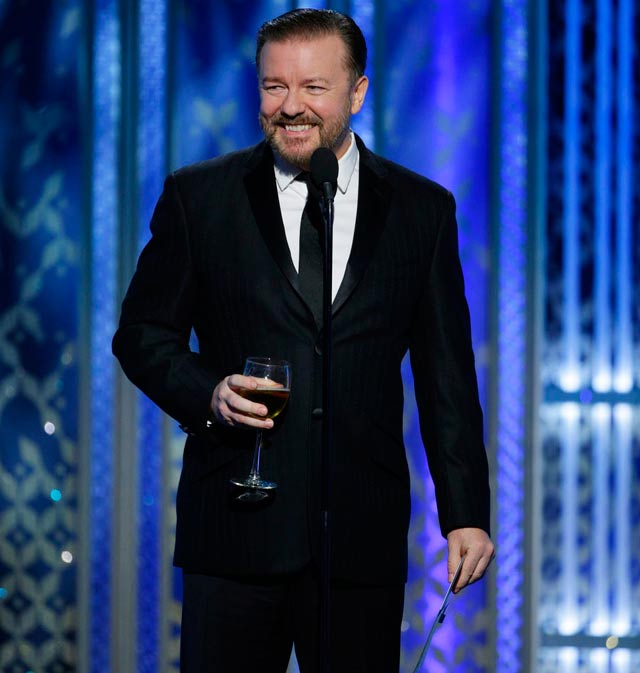 .@RickyGervais presenting Best Actress in a Motion Picture, Comedy or Musical. https://t.co/sZUw4UVzy4

— Golden Globe Awards (@goldenglobes) January 12, 2015
Kevin Spacey, who won Best TV Actor - Drama for House of Cards, dropped the F-bomb. People laughed.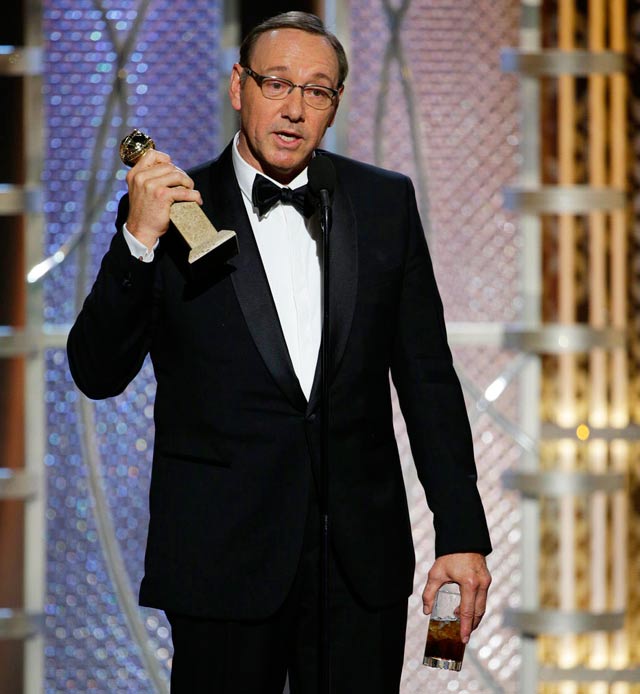 George Clooney, once the poster boy of Hollywood bachelorhood, had most of the audience more than a little teary-eyed with a speech in which he told wife Amal Alamuddin, "It's a humbling thing when you find someone to love. Even better when you've waited 53 years. I couldn't be prouder to be your husband."

George Clooney's acceptance speech for the Cecil B. DeMille award at tonight's #GoldenGlobes. https://t.co/Dxr5NkTBnv

— Golden Globe Awards (@goldenglobes) January 12, 2015