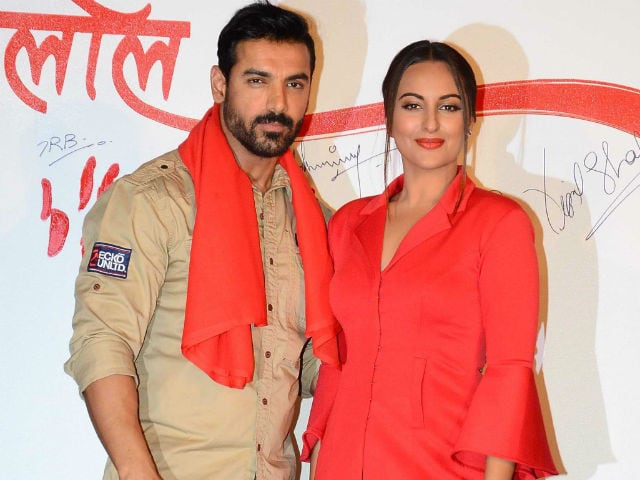 Highlights
They used to say God Bless America. Now its God bless the world: Sonakshi
His intent is in the right place: John on PM Modi's demonetization move
Directed by Abhinay Deo, Force 2 will hit the screens on November 18
Mumbai:
We caught up with the team of
Force 2
at Mumbai's Mehboob studio while political forces on domestic and international shores were creating headlines. Just before starting the interview with actors John Abraham, Sonakshi Sinha, and Tahir Raj Bhasin,
Donald Trump was elected President
of the United States.
Sonakshi said, "They used to say God Bless America and now its God bless the world" while John was a little more circumspect when he said, "I was in Boston recently. I asked a war veteran who you would vote for. He said Bernie Sanders because the other two are hilarious."
The demonetisation move
by Prime Minister Narendra Modi was welcomed by Sonakshi and John. "I am not an economist. So I don't know how it's going to pan out. But I understand his intent. His intent is in the right place," John said.
Coming back to the film, John found himself rather impressed with his co-stars Sonakshi and Tahir's ability with action. Tahir said, "Initially it was very intimidating. But our action directors were so great and there was such emphasis on safety."
Safety while performing stunts is a matter that is very clearly on John's mind especially after the tragedy that occurred with two Kannada actors recently. "Action has always taken a backseat in this country. But I am hoping after what happened to these Kannada boys our producers will sit up and take notice. We ( the stars ) are very well taken care of on the set but we see our stunt men carried out on stretchers," John said.
Force 2 directed by Abhinay Deo
and produced by Vipul Shah will hit the screens on November 18.