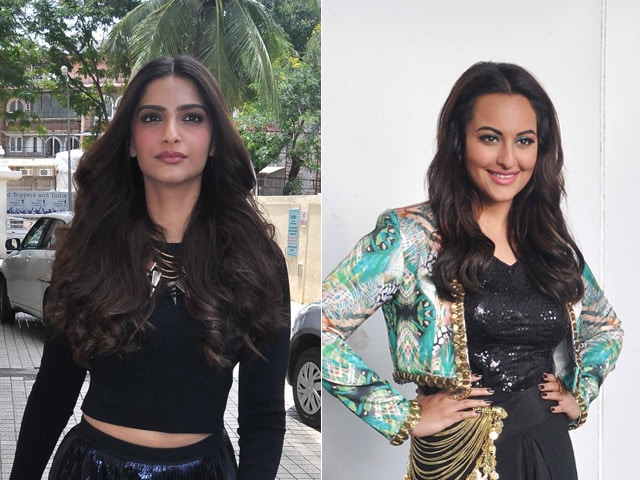 New Delhi:
To the uninitiated or the over-initiated, Twitter might often appear to be a cold, lonely wasteland inhabited by trolls, frothing at the mouth as they hunt down their next target of trollish behaviour. Things that set them off - a typo, a misplaced word, a comment not thought through or even just an opinion they don't agree with.
Trolls are unforgiving. Trolls are cruel. Trolls are also supremely democratic. As several of Bollywood's social media fraternity have discovered the hard way, a virtual army of trolls is hard to battle should you have been so unwise to put yourself in harm's way with an ill-considered tweet.
The most recent casualty is Sonakshi Sinha who has been charged with double standards by Twitter for these tweets on the week-long ban Mumbai has imposed on meat for a Jain festival:
This is a free country! Welcome to BAN-istan... I meant india.. Stupid autocorrect.

— Sonakshi Sinha (@sonakshisinha) September 8, 2015
Sonakshi's critics have excavated a 2014 tweet from her asking then-Health Minister Dr Harsh Vardhan to ban cosmetics tested on animals. It's not the first time the actress has been trolled, she's repeatedly and randomly made a target - once over the size of her forehead. Just last week, she was midway through a live Q&A on Twitter when up popped a very rude question. Sonakshi handled it like a boss. (Also Read:
How Sonakshi Sinha Trolled the Trolls
)
@devikajoshi760#sonasayspic.twitter.com/SP4TYDAh5u

— Sonakshi Sinha (@sonakshisinha) September 2, 2015
Sonakshi, you are not alone. Here are 10 other Bollywood celebrities who've been feeling the burn of Twitter's heavy breathing trolls:
Sonam Kapoor
On Tuesday, Sonam Kapoor retweeted a news report on the meat ban and added her own words: Our country is going to remain a 3rd world nation because of the intolerant misogynistic close minded few. (Also Read:
Trolled, Sonam Kapoor Says She'll Stick to Fashion in Tweets
)
Twitter instantly pointed out to her, in various degrees of rudeness, that a ban on meat wasn't derogatory to women and so her use of the word 'misogyny' was cause for ridicule. Sonam spent the next few hours explaining that her tweet was a 'critique of the general mentality.'
Anushka Sharma
Anushka has had repeated skirmishes on Twitter. Most recently, she was trolled for adding 'Azad' to President APJ Abdul Kalam's name in a tweet after he died in July. She later told the press, "It was an honest mistake and even though I got trolled, I don't care because my intentions were correct. They are cowards, faceless people who comment sitting behind a computer. Do that to my face and we will see."
The 'cowards behind a computer' are out baying for Anushka's blood each time her cricketer boyfriend Virat Kohli underperforms in a match. She is routinely blamed on social media, like when he made just a single run before getting out in the World Cup semi-final against Australia.
Shruti Seth
In June, the Shararat actress was trolled for 48 hours straight after criticizing the #SelfieWithDaughter hashtag that Prime Minister Narendra Modi endorsed. "Be more than a photograph," she urged PM Modi in a tweet and was received in return abuse of the vilest sort from the troll army. In a note posted later on Twitter, Shruti described the relentless trolling as "the floodgates of Hell being opened." In an interview with NDTV.com, Shruti said she had 'won against the trolls' and that she refused to be 'silenced for having an opinion.' (Also Read -
Shruti Seth to NDTV.com: "I Have Won Against the Trolls"
)
The Khans
Not even Bollywood's mightiest are off-limits for equal-opportunity offensive trolls. In March, Shah Rukh Khan briefly exploded over abusive posts on his timeline which he described as 'dirty crap' in a tweet. "Obviously you don't have b***s in your pockets or elsewhere. So are you just excited to be on my TL?" he asked. (Also Read:
Troll Shah Rukh, Aamir and I Quit Twitter, Salman Khan Tells Fans
)
In June, Salman, who does nothing by half measures, posted a series of tweets telling fans to stop trolling his buddies SRK and Aamir. He threatened to quit if the 'fans with false identities' didn't stop. All the Khans hate the 'ugly Twitter war,' Salman said:
Sharukh n amir hate it oo. N for my fans don't let me dwn. Srk n amir khan r my friend toh buss. Bhad mein gaya No 1,2,3. Samjhe kya?

— Salman Khan (@BeingSalmanKhan) June 9, 2015
Alia Bhatt
As 22-year-old Alia knows only too well, the Internet never forgets. A rather unfortunate episode of
Koffee With Karan
from 2014 has ensured Alia's permanent troll-worthiness after she named Prithiviraj Chavan (or Chauhan, as she calls him) as the President of India. The general knowledge-deficient Alia has since spawned countless memes and jokes and anybody displaying similar or comparable ignorance is instantly dismissed as having an 'Alia Bhatt moment.' The actress had the last laugh with a cleverly-crafted self-deprecating short film titled
Alia Bhatt: Genius of the Year
on which she goes to a 'brain gym' and finally flexes mental muscle on a fictional episode of
Koffee With Karan
. However, just a month later, she still didn't know Prithiviraj Chavan was, naming him as Maharashtra's Chief Minister days after he resigned. More jokes on Twitter followed.
Karan Johar
The American Supreme Court's historic June ruling making gay marriage legal in all 50 states was greeted by whoops of delighted cheering on social media which was flooded with rainbow-washed profile pics. But the trolls made themselves heard too. Filmmaker Karan Johar, whose sexuality has been endlessly discussed and speculated about, responded to a jibe that read 'Rumours: Karan Johar to get married soon in USA.' (Also Read:
Karan Johar Responds to Same Sex Marriage Joke on Twitter. #LoveWins, Trolls Lose
)
KJo's response tweet:
https://t.co/5We8Ko4Sbg it's so sad and disgusting when a major breakthrough movement is made into a mockery by some on Twitter!! Shame!!!

— Karan Johar (@karanjohar) June 27, 2015
Hrithik Roshan
In February, the Internet spontaneously combusted over #TheDress, arguing over whether it was white and gold or blue and black. Three months later in May, Hrithik Roshan discovered DressGate:
White and gold ? Or blue and black? Ask around. pic.twitter.com/qBLMNDVHh7

— Hrithik Roshan (@iHrithik) May 21, 2015
Three hours later, he posed this, making amends:
Guess I'm great at remembering faces and emotions , dresses not so much. (thankfully!)

— Hrithik Roshan (@iHrithik) May 21, 2015
In between his tweets, Hrithik's oopsie caused equal parts hilarity and incredulity on Twitter. "Hrithik Roshan uses Internet Explorer" read one joke. Another said, "Dear Hrithik Roshan, You'd also be pleased to know that the British have finally left. India is a free country now."
Neha Dhupia
As rain-lashed Mumbai struggled to keep its head above the water in July, Neha Dhupia tweeted what was an oblique criticism of PM Modi:
One rain n the city comes to a standstill. Good governance is not about selfies n makin us do yoga,it's making sure ur citizens r safe.

— Neha Dhupia (@NehaDhupia) July 21, 2015
The backlash was instant and venomous with insults about the actress' career and 'dumbness.' Any tweets defending Neha were shouted down. The actress wisely kept a low profile.
Abhishek Bachchan
In June, a troll retired hurt after messing with Abhishek Bachchan's three-year-old daughter Aaradhya in a tweet that he later deleted. Told that Aaradhya would not like his movies
Drona
and
Jhoom Barabar Jhoom
, Abhishek sent back a cutting response:
@Mayankaryan084 you feeling better about yourself now??? Good! Glad to have been of service. Now go back to the hole you crawled out of.

— Abhishek Bachchan (@juniorbachchan) June 16, 2015
"Yes, I feel like top of the world," replied the troll who was then crushed under the barrage of tweets defending Abhishek from other users. He apologized and presumably crawled back into the hole. Weeks later, Abhishek told news agency PTI that his daughter was 'off-limits.' (Also Read:
My Daughter is Off Limits , Says Abhishek Bachchan on Twitter Abuse
)
Rishi Kapoor
At 63, Rishi Kapoor is leading the charge of the Bollywood brigade on Twitter with comments and witticisms that range from slightly off-colour to bordering on more than mildly offensive - in fact, he might be classified as a troll himself by some. Hardly anybody seems to get his jokes which are usually met with a barrage of angry tweets - like the joke which involved Sonakshi, 80 kilos of heroin and Alia (see what we mean about the Internet never forgetting?). He's constantly berated by family and friends for being too outspoken on social media but continues to post blithely, sporadically issuing a health warning for people not to take him seriously. In May, three months after logging on after a five-year hiatus, Rishi Kapoor announced he was retiring from Twitter. In a midnight tweet, he explained why he was leaving:
Hi. Thought about it.Too much negativity abusive language and disregard for seniors. Will retire from Twitter coz it has only given me grief

— rishi kapoor (@chintskap) May 7, 2015
The self-imposed exile lasted just half a day. Some hours after declaring he was done, Mr Kapoor announced he was back. Since then, he's been his usual cheerful, politically incorrect self even though Twitter still annoys him by not finding his jokes funny.