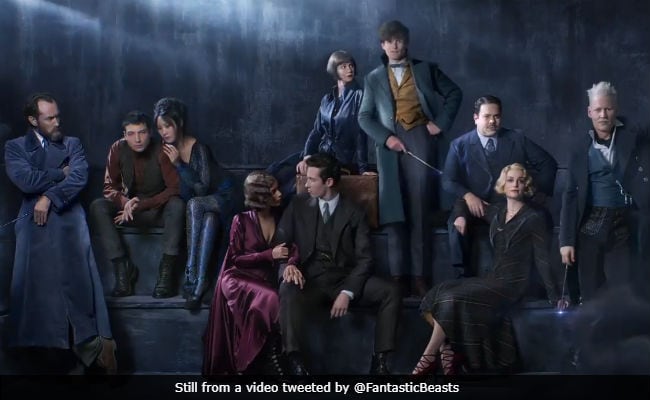 Highlights
Fantastic Beasts And The Crimes Of Grindelwald will release next year
Johnny Depp will reprise the role of Gellert Grindelwald
Eddie Redmayne returns as Newt Scamander
New Delhi:
The first teaser of the second
Fantastic Beasts
film, titled
Fantastic Beasts And The Crimes Of Grindelwald
is out. Yes, Eddie Redmayne as Newt Scamander will be back with some new adventures and some new (as the title suggests) fantastic beasts. The teaser will surely add to the weekend happiness of any
Harry Potter
series fan but here's a damper - the film will release one year from now. Sorry folks, you'll have to wait to watch the first ever onscreen Grindelwald and Dumbledore face-off. The teaser shows the principal characters of the second film and you'll be happy to know that 'no-maj' (muggle for British) Jacob Kowalski (played by Dan Fogler) returns to the film. But what will really make you happy is the presence of Jude Law as Albus Dumbledore (Yay!), who stands in a corner, avoiding his friend-turned-foe Gellert Grindelwald, played by Johnny Depp.
In addition, we are also introduced to Newt Scamander's elder brother Theseus (actor Callum Turner), an auror, who is engaged to Leta Lestrange (actress Zoe Kravitz), who was Newt's former love interest. Credence, who apparently destroyed himself at the end of the first film, also returns - he's in the teaser seated with actress Claudia Kim, who plays the role of Maledictus.
Also, Katherine Waterston and Alison Sudol will reprise their roles of the Goldstein sisters Tina and Queenie, who played an instrumental role in Newt Scamander's quest in the first film of the series.
Now, Accio Teaser:
In one year, return to the Wizarding World with Fantastic Beasts: The Crimes of Grindelwald. #MagicInProgress#FantasticBeastspic.twitter.com/8aWj8xhGj5

— Fantastic Beasts (@FantasticBeasts) November 16, 2017
Johnny Depp appeared as Grindelwald briefly in 2016's
Fantastic Beasts And Where To Find Them
. He remained undercover (damn you, Polyjuice Potion) for most part of the film as Percival Graves (played by actor Colin Farrell).
Fantastic Beasts And Where To Find Them
is a five-part series. The second film will focus on Albus Dumbledore's days as the Transfiguration professor at Hogwarts School Of Witchcraft And Wizardry while another film will feature Dumbledore and Grindelwald's epic 1945 duel, which lasted for three hours.
Fantastic Beasts And Where to Find Them
was directed by David Yates, who also directed the last four
Harry Potter
films. David Yates will return as director for the sequel too.