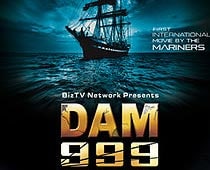 Highlights
India's only hope at the Oscars this year, filmmaker Sohan Roy's DAM 999 Tuesday failed to secure a place in the final nomination list of the 84th Academy Awards.
The movie stood a chance to feature in the best picture, best original song and best original score categories.
The nominations were announced at the Sameul Goldwyn Theatre here.
Roy's DAM 999, a $10 million film, tells the tale of a cracking dam built during colonial rule and revolves around nine characters and their emotions. The lives of all the nine characters revolve around the central edifice - the pressure-mounted dam.
The movie was unusually not in the running for the foreign movie category, but as a contender against international biggies like Harry Potter and the Deathly Hallows Part 2, Pirates Of The Caribbean: On Stranger Tides, Thor, Mission: Impossible - Ghost Protocol. It was among 265 films that were contending for the best picture nomination at the Oscars.
Also, three of its songs - Dakkanaga Dugu Dugu, DAM999 Theme Song and Mujhe Chhod Ke - were among the 39 shortlisted for nominations in the original song category. That apart, it also stood a chance for nomination in the original score category.
Now contending in the best picture category include - The Artist, The Descendants, Extremely Loud and Incredibly Close, The Help, Hugo, Midnight in Paris, Moneyball, The Tree of Life and War Horse.
The Oscar presentation ceremony will take place Feb 26 at the Kodak Theater in Los Angeles
Los Angeles:
India's only hope at the Oscars this year, filmmaker Sohan Roy's
DAM 999
Tuesday failed to secure a place in the final nomination list of the 84th Academy Awards.
The movie stood a chance to feature in the best picture, best original song and best original score categories.
The nominations were announced at the Sameul Goldwyn Theatre here.
Roy's
DAM 999
, a $10 million film, tells the tale of a cracking dam built during colonial rule and revolves around nine characters and their emotions. The lives of all the nine characters revolve around the central edifice - the pressure-mounted dam.
The movie was unusually not in the running for the foreign movie category, but as a contender against international biggies like
Harry Potter and the Deathly Hallows Part 2
,
Pirates Of The Caribbean: On Stranger Tides, Thor, Mission: Impossible - Ghost Protocol
. It was among 265 films that were contending for the best picture nomination at the Oscars.
Also, three of its songs -
Dakkanaga Dugu Dugu, DAM999 Theme Song
and
Mujhe Chhod Ke
- were among the 39 shortlisted for nominations in the original song category. That apart, it also stood a chance for nomination in the original score category.
Now contending in the best picture category include -
The Artist, The Descendants, Extremely Loud and Incredibly Close, The Help, Hugo, Midnight in Paris, Moneyball, The Tree of Life
and
War Horse
.
The Oscar presentation ceremony will take place Feb 26 at the Kodak Theater in Los Angeles