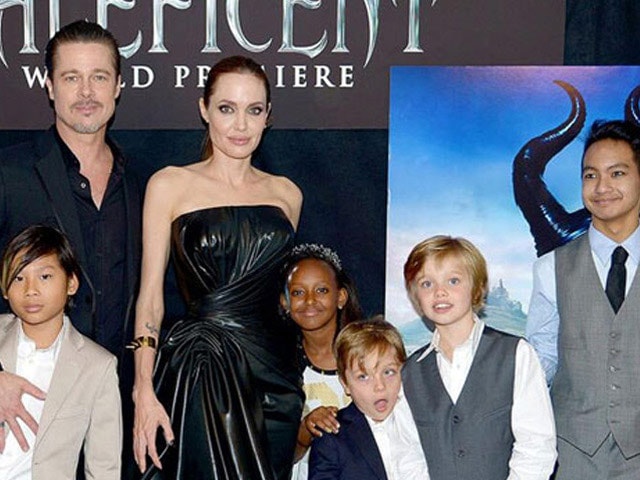 Los Angeles:
Actor couple Angelina Jolie and Brad Pitt are reportedly planning to adopt a little Syrian girl as their seventh child.
The star duo are already parents to Cambodian-born Maddox, Vietnamese Pax, Ethiopian Zahara, biological daughter Shiloh, and twins Knox and Vivienne.
A business associate, who has known Brad and Angelina, has been quoted by the Daily Express as saying, "She has been moved to tears on several occasions over the plight of youngsters orphaned in the Syrian conflict. Now she has sorted out her health issues, she and Brad believe the time is right to adopt another orphan from there, most likely a daughter." (Also Read:
Angelina Jolie has Ovaries Removed Over Cancer Fears
)
The 39-year-old actress had a surgery last month to remove her ovaries and fallopian tubes and two years ago had a double mastectomy after learning she carries a gene mutation which greatly increases the risks of developing breast and ovarian cancers.
Angelian has made at least six visits to Syrian refugee camps since 2012 in her role as a special envoy for the UN High Commissioner for Refugees. (Also Read:
Angelina Jolie Writes Op-Ed About Iraqi Camps
)
According to latest reports, at least 70,000 children have lost their fathers and a further 3,700 have had both parents either killed or imprisoned or have been separated from them while fleeing the civil war.
In a plea in November 2013, the
Unbroken
director called on the world to act "to save a generation of traumatised, isolated and suffering Syrian children from catastrophe".
Now she and Brad are ready to follow up on her appeal by legally adopting a Syrian child.
Another friend revealed, "This is something that has become very close to their hearts. They would like to accomplish it, if possible, before the end of summer because, even though they are both busy, their diaries are relatively light for most of 2015."
"Angelina's feeling good about turning 40 in June with a clean bill of health but what will make her happiness complete is seeing a new little face at the dinner table." the friend added.