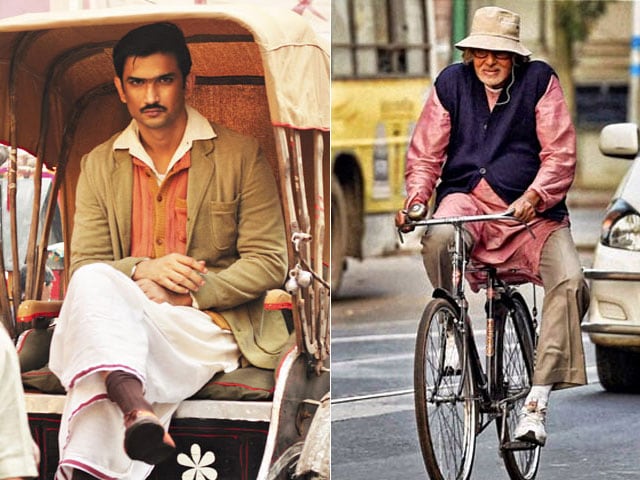 New Delhi:
Separated by just a month, two films set in Bengal and about Bengalis are on offer from Bollywood. As April began, Dibakar Banerjee brought a Bengali sleuth and colonial Calcutta to national attention in
Detective Byomkesh Bakshy!
Tomorrow arrives Shoojit Sircar's
Piku
, the story of a hypochondriac father and his long suffering daughter.
Set several decades apart,
Piku
and
Byomkesh
nevertheless inhabit similar worlds which orbit around the central notion of Bengaliness. Importantly, this is not Bollywood's notion of Bengaliness but an insider's view of a culture and a people. Both Dibakar and Shoojit are true-blue Bengali
bhadralok
- the first a '
probashi
' from Delhi, the second a Barrackpore boy who has already once offered Bollywood a window into the Bengali soul with
Vicky Donor
.
Both
Piku
and
Byomkesh
were filmed mostly in Kolkata. Dibakar's period piece recreated a pre-Independence Calcutta of trams, rickshaws and narrow, twisting streets busy with scurrying pedestrians. Shoojit's Kolkata, set 60 years later, isn't very different, allowing for the updated makes of vehicles on the road. The trams and rickshaws are still on the streets, though whether they've made it to screen we'll know only once the film releases. The scurrying pedestrians are most certainly still there and the lanes are also still narrow.
In
Byomkesh
, Dibakar offers up glimpses of a fictionalised Coffee House and Presidency College, both Kolkata institutions. Kolkata dwellers will also recognise the Bengal Club, used as a filming location for the fancy dress party towards the end of the film. Shoojit picked landmarks familiar even to non-Kolkatans, with pictures of shooting around Esplanade and Howrah Bridge posted on social media. Several scenes have also been shot in the local stately homes of Burdwan Palace and Laha Baari.
The Bengali's obsession with his digestive system makes it to both films. In Dibakar's film, the upsetting of Byomkesh's theory instantly upsets his stomach as well. His indisposition is freely discussed, even with Satyawati, a woman Byomkesh has met all of thrice. Discussing one's ailments with strangers or near-strangers is quite the Bengali thing to do, and everyone has something substantial to contribute, like Satyawati's prescription of rice boiled in curd water as a curative.
Shoojit makes this obsession with motion, which is responsible for the Bengali emotions, the pivot that the plot of
Piku
hinges on. Bhashkor Banerjee, the cantankerous old man who makes life so difficult for his only daughter, can think of nothing but his insides. To him, the well-being of his emotional insides depend on the unimpeded working of his physical insides. There's no reticence about discussing said working at the dining table - Bengalis will attest to indigestion, real or imagined or prospective, being a favourite topic of conversation at many a dining table. Bhashkor Banerjee is convinced he has the full set of ailments that the garden-variety Bengali hypochondriac imagines himself plagued by, and is severely pissed off when the doctors give him the all-clear.
Neither director, however, chose a Bengali actor to play the central figures in their
dramatis personae
. For the title role of Piku Banerjee, Shoojit picked not one of the several actresses of Bengali heritage from Rani Mukerji to Bipasha Basu, but the South Indian Deepika Padukone. As there are almost no Bengali actors of any age working in Bollywood currently - other than Abhishek Bachchan and Saif Ali Khan who are sons of Bengali mothers - Shoojit did the next best thing. He cast Amitabh Bachchan who a) is married to a Bengali, b) lived and worked in Kolkata before making it big in Bollywood and c) is therefore regarded by the city as one of its own. He also cast Irrfan Khan, an actor whose Bengali credentials include having played one very convincingly in
The Namesake
. Dibakar picked Sushant Singh Rajput, who grew up in Patna and Delhi, but made up for it by making him do very Bengali things like flinching at the thought of violence.
Piku
arrives to gladden the Bengali heart on May 8.
Disclaimer: The opinions expressed within this article are the personal opinions of the author. The facts and opinions appearing in the article do not reflect the views of NDTV and NDTV does not assume any responsibility or liability for the same.