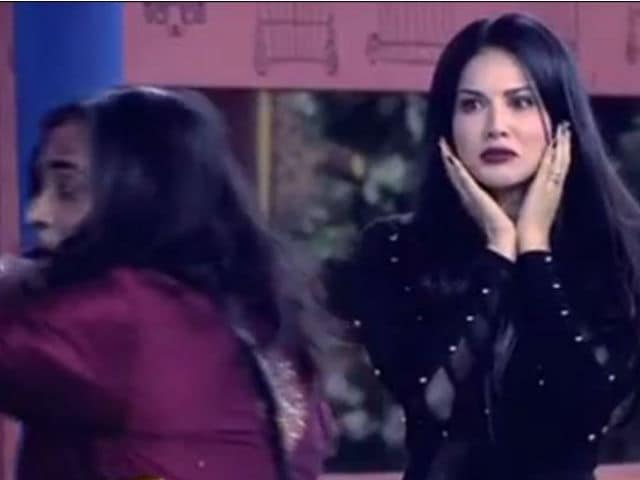 Highlights
Swami Om, Manu's alleged behaviour with Sunny outraged housemates
Manu called Sunny his 'maal'
Swami Om allegedly touched Sunny Leone inappropriately
New Delhi:
Actress and former
Bigg Boss
contestant Sunny Leone's appearance on a recent episode of the reality TV show has made headlines for various reasons. Controversially, contestants Swami Om and Manu Punjabi have been accused of alleged 'inappropriate behaviour' with Sunny on the episode which aired on November 22. In last night's episode, Swami Om allegedly touched Sunny Leone in a way that outraged other members of the house. On another occasion, Manu referred to Sunny by the derogatory term 'maal' when they
enacted an iconic scene from Sholay
, in which Manu played Veeru, Sunny was Basanti and Swami Om got into the skin of Gabbar.
VJ Bani was the first to notice Swami Om allegedly touching Sunny, 35, inappropriately and told
fellow contestant Lopamudra Raut.
Though Lopa said she didn't notice, she still went to Swami Om to address the issue. Swami Om's defence was that he hadn't meant any harm which wasn't taken at face value.
Later, Manu, Manveer Gurjar and Nitibha Kaul sat together to discuss Swami Om's alleged misconduct with Sunny Leone. Nitibha again flagged that Swami Om did touch Sunny. Swami Om responded by saying that if Sunny had been uncomfortable, she would have said so. To ease the situation, Manu became the mediator and explained to Swami Om that women are shy and don't point out such things. He also suggested that a handshake would have been just fine. Swami Om took Manu's advice and said he would be careful in future.
Earlier in the day, Manu was reprimanded too. During the
Sholay
act, Manu called the actress his 'maal,' raising objections from Bani. Bani discussed it with Gaurav Chopra and said that she doesn't like it when men comment on women like that. She also mentioned that no one in the house talked about it, to which Gaurav replied and said that none of them heard it. Bani decided to take it up with Manu. She asked Manu if it was appropriate to call women 'maal' and Manu replied that if Sunny did not object, Bani shouldn't point it out either.
At the end of the viral video task,
Team Lopamudra won
. The teammates - Swami Om (who was expelled from the team for letting the other side borrow clothes), Rohan Mehra, Manu and Lopa - are immune from the next eviction.