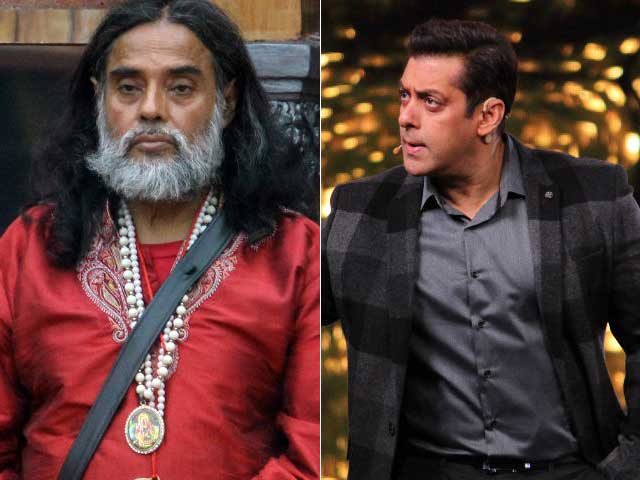 Highlights
Swami Om's behavior forces Salman to walk out
Gautam Gulati and Mandana Karimi give contestants their piece of mind
Four news contestants to enter Bigg Boss
New Delhi:
Bigg Boss 10
's
Weekend Ka Vaar
on November 26 was first of a kind. The tempers ran high courtesy Swami Om and the shocker of the day was when show's host Salman Khan walked out. Swami Om's behaviour with other contestants-Rohan Mehra, Rahul Dev, Nitibha Kaul, Lopamudra Raut, Monalisa, Manu Punjabi, Manveer Gurjar, Gaurav Chopra, VJ Bani, made sure that he is branded as the villain of the week. Swami Om defended saying that everyone felt threatened since he was a strong contender to win the reality show this year. Salman grilled Swami Om while the other contestants felt vindicated. However, at one point, even Salman coundn't take Swami Om's contradictory statements and was forced to walk off. Let us walk you through.
The show started with Salman introducing the wild card entries to the audience. Now, we know that they are model Jason Shah, actress Eleza Kazan, actor Sahil Anand and Priyanka Jagga (who returns after eviction) but Salman doesn't disclose their identities. Salman tells the audience that four wild card entries will replace the contestans who are nominated this week-Nitibha, Bani, Manveer, Rahul and Gaurav.
Salman connects with housemates. Swami Om is unanimously voted for the
Khalnayak
chair after he created a ruckus in the Bigg Boss house in the episode aired on November 25, which compelled everyone to boycott the self-styled godman. Salman asks Swami Om to introspect but to no avail. Swami Om continues to defend himself. Salman asks him why did he attack Rohan on personal grounds. Swami Om goes on arguing with Salman and the actor ulitmately gives up and turns away saying: "You can keep talking, Swami Om." As Salman turns away, other housemates rebuke Swami Om for misbehaving with the actor.
Ex Bigg Boss contestants Gautam Gulati and Mandana Karimi arrive as guests on November 26 with an aim to give a reality check to the contestants. Salman shows a clip where Gaurav is seen advising Bani to be careful of her words and not come across as aggressive. Bani feels frustrated and defends herself by saying that she has no malice in her heart and if housemates judge her then its there problem. She also gets upset with Gaurav for constantly nagging her about how she comes across. Bani and Gaurav get into a heated argument and Bani asks Gaurav stop talking to her if he is tired of explaining her stand to other housemates.
Mandana reacts to the video clip and lauds VJ Bani for being honest. Gautam tells Bani she is coming across as a strong and honest contender and hence should not feel low. Gautam adds that he was too misunderstood during his stay in Bigg Boss house and understands her situation but also adviced her to stay true to her gut feeling. Mandana accuses Gaurav of being too conscious of his image and even calls his presence in the house boring. Gaurav says that he is an actor and has an image to protect. Gautam interjects him saying that it is a reality TV show.
Salman also discusses about Manu and Lopa's diamal performance in the secret task. He also questioned Manu that why did he discuss about the task with Manveer, Rahul, Mona and especially Swami Om who is notrious for not keeping a secret. Manu had nothing to say. Gautam commented that Manu didn't even read the intrustions for the secret task and was acting overconfident. Salman then asked Lopa why was she feeling so guilty about stealing the gold. After all it was just a task told by Bigg Boss. Manu and Lopa chose not to defend themselves.
The caller of the day talks to Swami Om and says that he self-styled godmen behaves like he has been defeated since he is always found defending himself. Swami Om says it is all part of an act and in the end he will be the winner of the show.
Salman then mentions about eviction and says that there is one contestant who didn't get a single vote. He calls out for Nitibha and says that it was strange that not a single person, not even her family voted for her. Nitibha was seemed shocked as well. However, Salman tells house mates Nitibha will not be the only one to get out and that there will be no evivtion today leaving housemates confused. Today's episode will see the entry of the four wild card contestants who will replace-Bani, Manveer, Rahul and Gaurav.