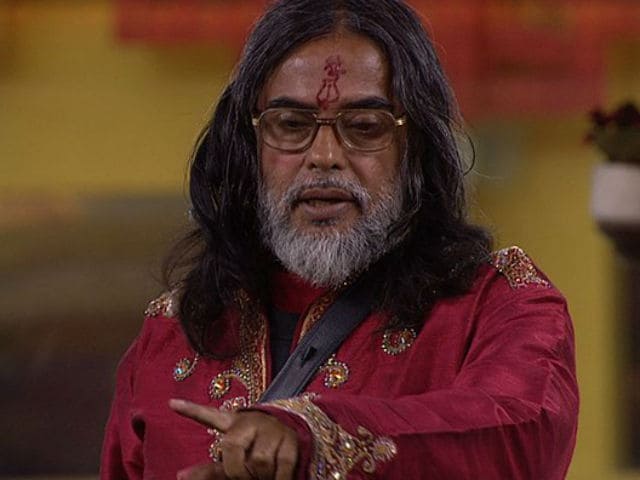 Highlights
The captaincy task will be played
Rohan and Nitibha will support Bani
Swami Om will be thrown out of the house
New Delhi:
The captaincy task between Bani J and
Swami Om
will take place on Day 81 of
Bigg Boss 10
. In an attempt to become the new captain of the house, the controversial self-styled godman will today try to convince the housemates to vote for him. Last night, he had appealed to Manu and Manveer to support him. He will also approach his competition Bani and reminds her that they share a
baap-beti
relationship. However, Bani decides to ignore him. Meanwhile, Manveer tries to frighten Swami Om and tells him that he will check all his bags to seize all the unnecessary things he has kept.
Later, Bigg Boss will announce the
captaincy task
wherein Bani and Om Swami compete against each other. Manveer will be made the '
sanchalak
'. For the task, two pyramids of miniature blocks with Bani and Om Swami's pictures will be placed and the contestants will have an option to destroy the pyramid of the contender they do not wish to support while Bani and Swami Om will have to protect their pyramids. At the end, whoever will be left with a maximum number of blocks standing in a shape of a pyramid will be the winner.
And the task for captaincy starts between @bani_j & #OmSwami! Whose pyramid do you think will fall to pieces? Tune in to know! #BB10pic.twitter.com/na2QxrzWLh

— Bigg Boss (@BiggBoss) January 5, 2017
Rohan and Nitibha decide to support Bani while Manu, Monalisa and Lopamudra decide to destroy the pyramids of both the contenders.
Soon as the task will start, housemates will target Swami Om. Agitated by this, Swami Om will decide not to participate in the task. Meanwhile, Rohan will have a massive fight with the others including Lopamudra for supporting Bani.
Manu asks Swami Om to play the task seriously. Soon Bigg Boss will announce that the task will end in sometime. Desperate to become the next captain, Swami Om will throw his pee on Bani and Rohan.
#OmSwami's horrid act with @rohan4747 & @bani_j shocks everyone to the core, forcing them to lock him up in jail! #BB10pic.twitter.com/6Ul1HeFHpf

— Bigg Boss (@BiggBoss) January 5, 2017
The entire incident will stir up a storm inside the house. The entire house will then unite and drag him to the jail. They also request Bigg Boss to throw him out of the house. As the condition worsens inside the house, Bigg Boss expels Swami Om from the house.