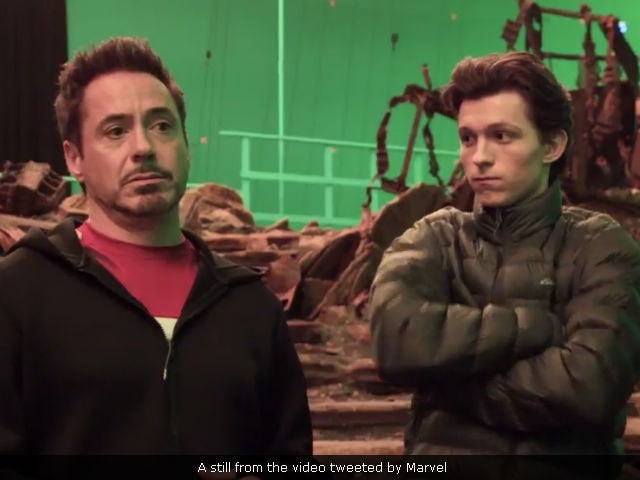 Highlights
Thanos will be the principle villain of Avengers: The Infinity War
Marvel purposely introduced a wall between Captain America and Iron Man
Thanos is seeking the mind stones, one of which is with Vision
New Delhi:
Team Marvel released a sneak peek video from the sets of upcoming film in the Avenger series, titled
Avenger: The Infinity Wars
. The makers take the viewers inside the sets of the film, which will start right after the events of
Captain America: Civil War
. With Tony Stark (Iron Man) and
Steve Rogers (Captain America)
divided, the
fate of the Avengers
- Black Widow, Hulk, Hawkeye, Spider-Man, Scarlett Witch, The War Machine and many others - remain uncertain. Enter Thanos, the ultimate supervillain, (as the makers claim) who is search of the six infinity stones, one of which was with Vision. In the end of
Avengers: Age Of Ultron
, Thor leaves the mind stone with Vision (embedded on his forehead) and makes it his mission to learn about the forces trying to collect the mind stones.
"Thanos show us why he is the biggest, the best and the baddest villain we've ever had. He's the most frightening villain the Avengers have ever faced," said Marvel Studios' president Kevin Feige. "In
Avengers: The Infinity War
the Avengers will
meet The Guardians of The Galaxy
," Kevin Feige. In the
Age of Ultron
, actor Josh Brolin of
The Guardians of The Galaxy
made an uncredited appearance as Thanos.
He added: "We know they are going to face phantoms. We've been setting that up since Avengers #1. How do you do that in a way that is unexpected that pitches the Avengers against some body, who is more powerful than anyone they have ever faced and yet make them completely unprepared to think... well, tear them apart. We did that in
Civil War
." The end of
Civil War
was a set-up for the upcoming Avenger films, added director Anthony Russo.
Action...@Avengers#InfinityWar. pic.twitter.com/VMmVyIUnll

— Marvel Entertainment (@Marvel) February 11, 2017
The first part of
Avengers: The Infinity War
is now in production and is set for release in May 2018. The film's second part will hit the screens in 2019.