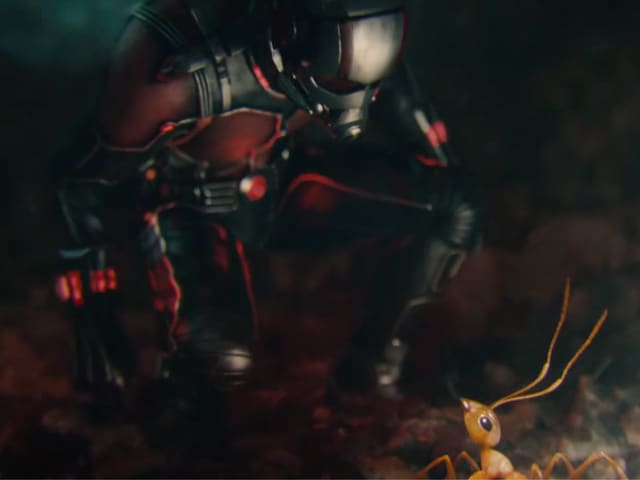 Los Angeles:
Marvel action flick
Ant-Man
stayed atop the US box office on June 26, edging out retro videogame comedy
Pixels
in estimated weekend North American ticket sales, industry data showed.
Ant-Man
, which stars Paul Rudd as superhero Lang Scott, pulled in more than $24.7 million, less than half what it took in its opening last week.
Pixels
, in which star Adam Sandler fights off a videogame-inspired alien invasion, made it to the number two spot in its first weekend with a $24 million take, according to industry tracker Exhibitor Relations.
Pushed down a notch to the third place was animated comedy
Minions
, a prequel to the movie
Despicable Me
featuring three tiny mischief-making creatures. It reaped just over $22 million at the box office in its third week.
Trainwreck,
a bawdy romantic comedy, which features Amy Schumer, dropped to the fourth position in its second weekend in theatres, bringing in nearly $17.3 million.
Southpaw,
which stars Jake Gyllenhaal as a boxer at the end of his bruising career, made its debut over the weekend, with a respectable $16.5 million box office take that put it in the fifth place.
Also making its debut was
Paper Towns,
a road trip mystery movie based on the novel with the same name by John Green. The movie, which found itself in the sixth place, made $12.5 million.
The Disney animated movie
Inside Out
slipped to seventh, netting $7.3 million in its sixth week in North American theatres.
Jurassic World
continued pulling in moviegoers, scoring another $6.8 million for the eighth place on its seventh weekend, for a cumulative total of $611 million.
Worldwide it has pulled in more than $1.522 billion to become the third biggest global hit of all times, according to Exhibitor Relations.
Mr Holmes,
which stars Ian McKellen as an ageing Sherlock Holmes advanced to the ninth place with $2.8 million in ticket sales, while sci-fi action film
Terminator: Genisys
, which brings back Arnold Schwarzenegger in the titular role, takes the tenth position with a $2.4 million.