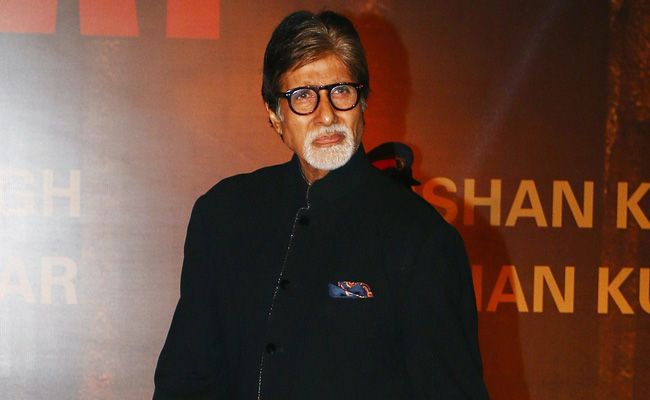 Highlights
About filming Thugs Of Hindostan, Big B said: "It's been rough"
His blog seems to indicate that he's been working long hours
He's shooting for the movie in Jodhpur
New Delhi:
Actor Amitabh Bachchan, 75, is being attended in Jodhpur - where he's filming - by a team of doctors from Mumbai, who arrived in Jodhpur today morning. "I am getting my team of doctors in tomorrow morning to fiddle around with my body and set me up again. I will rest and keep informed in process," Mr Bachchan wrote on his blog in a post shared early this morning. Exactly what has happened to him is not clear - his blog seems to indicate that he's been working long hours on
Thugs Of Hindostan
- the film he's currently shooting in Jodhpur - and that "it's been rough."
#Rajasthan: A team of doctors arrived in Jodhpur from Mumbai to attend to actor Amitabh Bachchan, who is in the area for a shoot. pic.twitter.com/fhXPLwOSkU

— ANI (@ANI) March 13, 2018
"Some people need to work for a living and work hard," Amitabh Bachchan wrote - that's pretty much most of us, Mr Bachchan. He seems quite cheerful on Twitter, however. This was his last tweet, shared some hours after his blog post:
T 2742 -" We are very good lawyers for our own mistakes,
and very good judges for the mistakes of others "~ PaulC

हम अपनी ग़लतियों के लिए बहुत अच्छे वक़ील बन जाते हैं ; और दूसरों की ग़लतियों के लिए बहुत अच्छे न्यायाधीश - Judge ~ab pic.twitter.com/CSUKON0vFV

— Amitabh Bachchan (@SrBachchan) March 13, 2018
He tweeted before that about getting back from his shoot at just short of 5 am:
T 2741 - 4:51 AM .. and just back from work .. !
the city Jodhpur sleeps .. and so shall I in a while after connecting with the well wishers .. love pic.twitter.com/2bsjzkLp3U

— Amitabh Bachchan (@SrBachchan) March 12, 2018
The accident on the sets of Coolie that put Amitabh Bachchan in a coma all those years ago has left him with a list of medical complaints. Mr Bachchan has written earlier about living with pain. He was pictured at Lilavati Hospital in Mumbai last month, reportedly because of lower back trouble. Hospital authorities later revealed that it was a routine check-up. The actor was admitted briefly and discharged the same day. Mr Bachchan later posted a poem on his blog which began "
Jee haan janaab, main aspatal jaata hoon
."
Amitabh Bachchan's work-in-progress project
Thugs Of Hindostan
also stars Aamir Khan, Katrina Kaif and Fatima Sana Shaikh. Mr Bachchan also has 102 Not Out with Rishi Kapoor lined up for release.