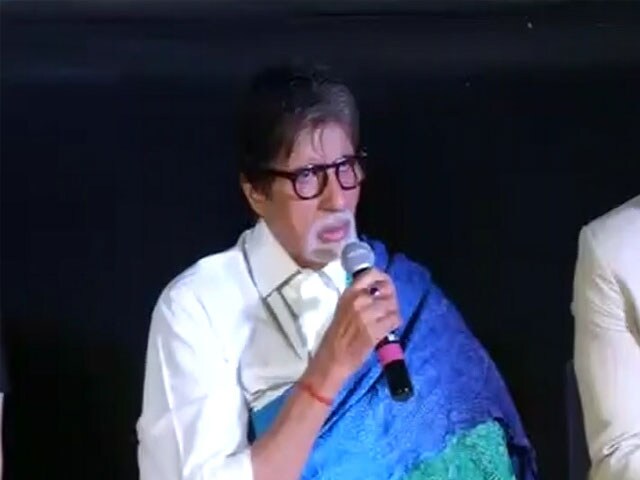 New Delhi:
Actor Amitabh Bachchan, who finds himself in the eye of the storm around Maggi noodles, said on June 3 that he had not received a legal notice so far and that he stopped endorsing the brand two years ago. Mr Bachchan, 72, has been named in an FIR with Madhuri Dixit, who is the current ambassador for Maggi noodles, and Preity Zinta, who advertised the product 12 years ago.
Mr Bachchan told news agency ANI: "I stopped endorsing Maggi two years ago. I haven't received any notice till now. As soon as I get it, I will put it up to my lawyers, we will fully cooperate."
He earlier told the press that there are precautions he takes when signing up to endorse a brand: "I did check with Nestle, who make the product, whether this is all right and if they are sure. I even put a clause in my contract where I said that I hope you people defend me, legally, if something happens. I don't endorse it now because my contract is over."
Actress Preity Zinta responded to being named in the FIR filed by an advocate with a perplexed reminder that she advertised Maggi noodles 12 years ago.
Reading the news about me being sued for doing the Maggie commercial over 12 years ago ? 12 years ago ? How does that happen ?

Preity zinta (@realpreityzinta) June 3, 2015
Madhuri Dixit, the first of the three celebrities to respond to the controversy, tweeted about meeting with Nestle officials.
Like most of India, I have enjoyed Maggi noodles for years. I was very concerned after recent reports and met with the Nestle team (1/3).

- Madhuri Dixit-Nene (@MadhuriDixit) May 30, 2015
Nestle explained that they always place the consumer first and have the highest quality standards. (2/3)

- Madhuri Dixit-Nene (@MadhuriDixit) May 30, 2015
Nestle has reassured me that they adhere to stringent testing for quality and safety and are working with the authorities closely.

- Madhuri Dixit-Nene (@MadhuriDixit) May 30, 2015
Maggi noodles is being tested in several states for increased levels of lead and monosodium glutamate of MSG. Tests in Uttar Pradesh found eight times the permitted amount of lead and a case has been registered against Nestle India, the makers of Maggi noodles, in a local court in Barabanki, Uttar Pradesh by food regulator FSDA (Food Safety and Drug Administration). Kerala has recalled the product from some 1300 government-run outlets. After meeting Nestle officials on Wednesday, the Delhi government has banned the sale of Maggi noodles for 15 days and asked Nestle to withdraw stocks of the product from the capital.
Nestle has said it conducted external as well as in-house tests on Maggi and that the noodles were 'safe to eat.'