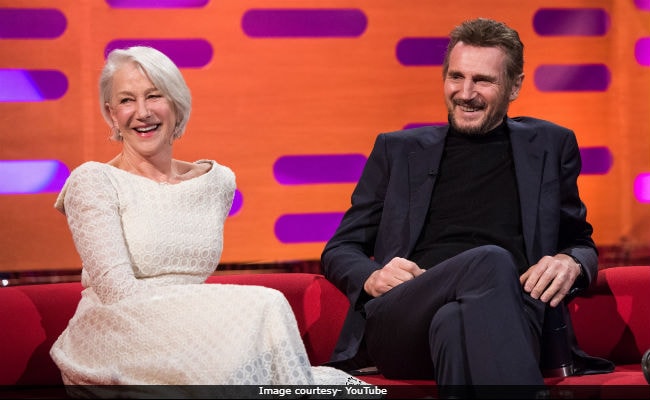 Highlights
They dated during the making of Excalibur (1981)
"Was smitten by Helen in her Morgana Le Fay costume," says Liam Neeson
The duo talked about their relationship
New Delhi:
Two of the greatest acting legends of Hollywood - Dame
Helen Mirren
and Liam Neeson - admitted that they just didn't date back in the 80s, but 'lived together for almost four years,' before they broke-up. The duo made a public appearance together after almost 34 years on television for
The Graham Norton Show
. They were also joined by
Fifty Shades of Grey
actor Jamie Dornan. In a video published by
The Graham Norton Show
on YouTube, Liam Neeson recalls the moment he fell in love with Helen Mirren. Liam Neeson, 65, says, "I remember being on the set and standing with Ciaran Hinds as Helen walked towards us dressed in her full Morgana le Fay costume, and we both went, I think Ciaran was too, but I was very smitten." This candid confession left Helen Mirren, 72, blushing as she quipped, "I never knew that. You've never told me that before. It's amazing."
Excalibur
(1981), directed by John Boorman had Mirren playing the powerful enchantress Morgana Le Fay, while Neeson played the role of Sir Gawain.
Their fondness for each other on show was hard to ignore, while host Graham Norton was quizzing them about their secret dating days. Helen Mirren didn't just correct him for the term 'dating', but went up to admitting their serious relationship that last four years, she said, "We were a serious item for a while. Lucky me!"
Liam Neeson added, "Before I met her and we worked together, I had read somewhere that if she fancied a guy she would imitate his walk behind his back, and I turned around one day and she was doing that to me."
Watch the video here.
Back in 1980, while filming
Excalibur
, both Liam Neeson and Dame Helen Mirren were rumoured to be dating. However, none of them ever acknowledged a romance, until in an interview to James Lipton for
Inside the Actors Studio
, Liam Neeson revealed that she helped him in shaping his career.
Liam Neeson was married to Natasha Richardson, his co-star of the 1993 play
Anna Christie
while Helen Mirren is currently married to American director Taylor Hackford.