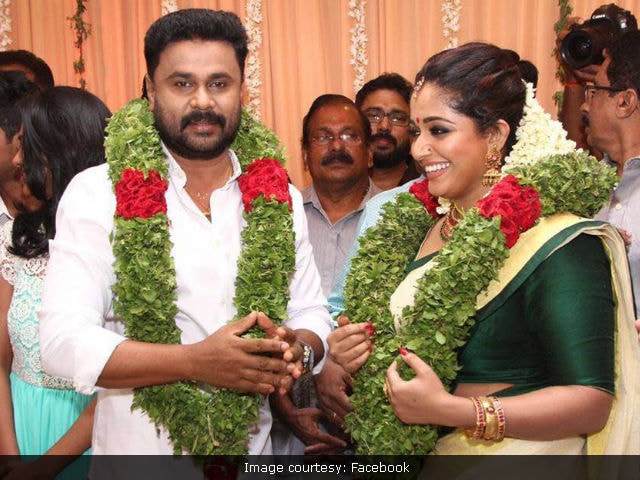 Highlights
Dileep said that Kavya was not the reason for his separation from Manju
Dileep married Kavya two years after divorcing Manju Warrier
The actor says he remained silent so far for the sake of his daughter
New Delhi:
Malayalam actor Dileep, who
recently married actress Kavya Madhavan
after divorcing Manju Warrier, opened up about his equation with his former wife and what lead to their divorce. The actor made it clear that Kavya was never the reason for his separation from Manju Warrier. "If Kavya was actually the reason, how would I dare to go ahead with the decision to marry her," Dileep told
Manorama Online
. Dileep married actress Manju Warrior in 1998 and the couple was
granted divorce in January 2015
. They have a daughter Meenakshi, and Dileep said that so far, he was silent because of his daughter. "I trusted many people but I was betrayed. I always maintained silence, thinking about them and for my daughter... her future. My first wife is leading her life and I mine. We both are going on in our own ways," said Dileep.
Of his decision to end his 17-year-old marriage to Manju Warrier, Dileep said: "It's a closed chapter. I got married in 1998, it was a sudden decision. Till five years ago, everything was perfect and I had a happy family life. I had submitted a brief account of what really ended the happy life and the reasons behind it to the family court on June 5, 2013. That was not a divorce petition, it was the story of my life. There are culprits in it, witnesses in it and even evidence. There are even 'renowned' people involved in it and I hope the real side of them never comes out in public," reports
Manorama Online
.
Almost two years after the divorce, Dileep married Kavya Madhavan in a traditional ceremony in November 2016. Dileep knew Kavya for a long time before they got married but the actor said that Kavya had nothing to do with his "marital troubles." He told
Manorama Online
: "Liking somebody does not mean that you are having an affair with that person. I have known Kavya for a long time. The public has been made to believe that Kavya is the reason for all this. Me and my former wife were not mere partners. We were strong friends. And it's only saddening to hear when people say that such a relation came to an end because of a single person."
At the time of their wedding, Dileep slammed reports that his daughter Meenakshi was against his second marriage. He also told
Manorama Online
that his friends and family insisted he got married and initially Kavya's mother thought that people would gossip more about them if he married Kavya. "Later I briefed her about all the circumstances and situations, and everyone agreed."
Dileep was recently seen in
Georgettan's Pooram
and is awaiting the release of
Pickpocket
,
Kammara Sambhavam
,
Prof. Dinkan
and
Ram Leela
.