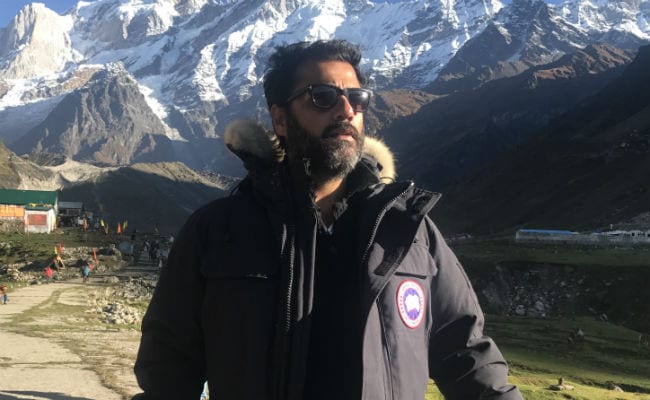 Highlights
Kedarnath's story is unique to India: Abhishek Kapoor
Kedarnath stars Saif Ali Khan's daughter Sara
It is Sara's debut film
New Delhi:
Striking the right note with
Rock On!!
, flying high with
Kai Po Che!
, the desire for a hit hat-trick may have been unfulfilled, but filmmaker Abhishek Kapoor's devotion to his craft cannot be doubted. Currently shooting for his next film
Kedarnath
, with Sushant Singh Rajput and Sara Ali Khan, Abhishek Kapoor, the director, in an interview to NDTV said, "There are two kinds of people in the spiritual world - those who are believers and those who are seekers. A believer has trust in the universe and a seeker is one who isn't but is trying to gain that trust."
"I have been both, and I have had some great experiences spiritually. I have seen people trekking up mountains on these pilgrimages, on these arduous trips to find God. What I have observed is that on their journeys to seek God, they usually experience God at some point along the way," he adds.
Speaking about his new film,
Abhishek said that Kedarnath's story
is unique to India and this country is so complex. "Kedarnath touches on the philosophy of Hinduism, and about the ideologies of our Hindu culture, and how we are capable of embracing other faiths without having our own shaken or disturbed in any way, because we are that strong and we are the foundation of India," he said.
For Abhishek,
Kedarnath
is 'one of the most important stories that he can tell to modern India.' "The Kedarnath floods in 2013 could not leave my mind, due to the stories that came out of it - devastating and remarkable in equal measure. I had to go ahead and develop a film set against that backdrop. I believe it is one of the most important stories I can tell for modern India," said Abhishek Kapoor.
With
Kedarnath
, Abhishek Kapoor launches Sara Ali Khan, daughter of Saif Ali Khan and Amrita Singh. She stars opposite Sushant Singh Rajput, who debuted with
Kai Po Che!
. Of casting a newcomer for the film, Abhishek said, "Newcomers have an infectious energy and unpredictability and give the audience a surprise. Having said that, it's not that I mind working with established actors provided they are as excited about portraying the characters that I would like to see bought to life. I am bringing to life. I can only chase my characters, not my actors. Sometimes it is not possible to do both."
Kedarnath
is slated for a December release and will clash at the box office with Shah Rukh Khan's much-anticipated film
Zero
, directed by Aanand L Rai. However, isn't worried about the clash and says, "I am not anxious, I am humbled and excited. But the audience is going to be the winner on that weekend."
With
Padmaavat
hitting the screens this week, many films including Akshay Kumar's
PadMan
shifted their release dates.
Dismissing all reports stating about creative differences between him and Sushant, Abhishek says, "Sushant is a thinking-actor, and he has questions and we talk. The kind of films I write and the characters I want represented are complex and have layers that need to be explored. The truth is that he has never challenged me creatively, but whenever he has a question he never fails to address it with me and we have a lot of discussions. He does a lot of preparation for his role and is so deeply involved with the character that he won't stop digging into the meaning of things, and he seeks clarity from me till he is satisfied with my answers. Exploring a film and bringing it to life with Sushant is a great experience." However, he avoided to discuss about
Kedarnath
's leading lady Sara.
But being a Bollywood insider himself, Abhishek chose to keep himself away. He started his career as an actor and in 2006, he directed his debut film
Aryan
. 2008's
Rock On!!
, starring Farhan Akhtar and Arjun Rampal, was hugely successful at the box office and won a National Award too. Speaking about his career so far, Abhishek, who is the nephew of actor Jeetendra said, "Yes, it's true, when I was growing up my mother's brother Jeetendra was a major Hindi movie star, and we do know a lot of people from the movie business, but as with everyone, the decision to be in films and my journey in film was my own, and has been a fairly challenging one too. Knowing people is not an automatic all-access pass to success. Very early on I saw a lot of failure, so any sense of entitlement I may have had about my place in the business was quickly knocked out of me."
"I have gone through my share of struggles and have understood that it does not matter whether you start as an "insider" or as an "outsider". What matters is who you are and what you bring to the table in terms of your creativity and your work ethic," Abhishek added.
Filmmaker Anurag Kashyap, who in a recent interview with NDTV, said there was no denying that nepotism ruled Bollywood, Abhishek begs to differ. "It's not a simple matter at all. There is a natural comfort level with those who are familiar to you. If you give responsibility to people who don't deserve it, family or otherwise, then your own work will suffer inevitably. It is something to consider on a case by case basis and really is a personal matter. Creativity, trust, and instinct are not things that can be measured and accounted for."
Abhishek Kapoor has also produced
Kedarnath
, which he describes as a natural progression. "As a filmmaker you want to own your film. It's like a child for you... and being a producer gives you more control to nurture your baby. The idea of starting my own production house,
Guy In the Sky Pictures
, came when I was completing
Kai Po Che!
with UTV and after my interactions with Ronnie Screwvala and Siddharth Roy Kapur. I was inspired by how they balanced structured professionalism with their creative passion for filmmaking. I hope to instil Guy in the Sky Pictures with the same ethos," he said.
Kedarnath
will release on December 21.