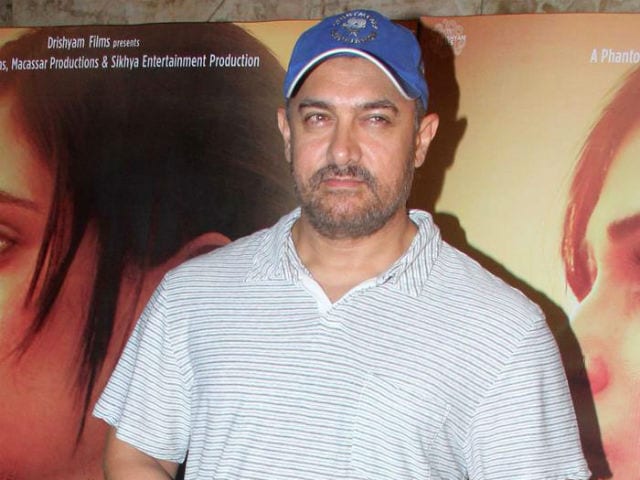 New Delhi:
Actor Aamir Khan has offered a clarification of the controversial comments about 'intolerance' he made last year. Mr Khan, 50, has now said he has no plans of leaving the country.
Speaking at the 10th anniversary event of
Rang De Basanti
in Mumbai, Mr Khan said on Monday, "Some people have been able to understand what I said, some people are angry with me and I understand their anger. People are thinking that I want to leave the country. There is no truth to this. I was born here, I will die here. I'm not able to live more than two weeks out of the country. I get homesick."
Mr Khan also said that he had been misunderstood and pointed to his work in TV show
Satyamev Jayate
which highlights and presents solutions to social issues. "I have not said that this country is intolerant. I have not said that I will leave this country. Look at my films. Look at
Satyamev Jayate
. I've been trying to contribute to nation building," he said.
Aamir Khan's remarks at the Ramnath Goenka Awards last November provoked nationwide protests. Speaking at the awards in New Delhi, he said that his filmmaker wife Kiran Rao had suggested they move countries because of rising 'intolerance.'
Now, Mr Khan has apologised for revealing a conversation with his wife. "I should not have shared something Kiran shared with me privately on a public platform. And she made me realise that in no uncertain terms," he said on Monday.
After his comments last November, the actor was widely criticised by many and was slammed on Twitter by colleagues like Anupam Kher and Raveena Tandon.(Also Read:
Anupam Kher 'Would Like to Believe' Aamir Khan is a 'Very Dear Friend'
)
Mr Khan was recently replaced as the brand ambassador for the Incredible India campaign by actors Amitabh Bachchan and Priyanka Chopra.
Aamir Khan is currently filming sports biopic
Dangal
, in which he plays wrestler Mahavir Phogat.