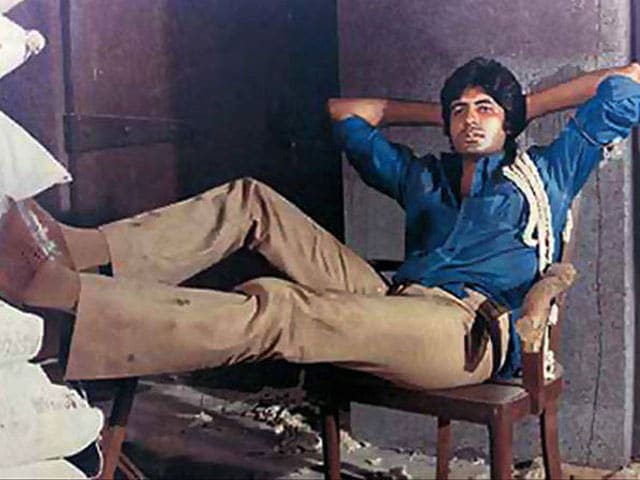 New Delhi:
In 1975, director Yash Chopra made a film that changed Indian cinema in several ways. Deewar, starring Amitabh Bachchan, Shashi Kapoor, Parveen Babi, Nirupa Roy and Neetu Singh, gave the anti-hero star billing with its tale of two brothers on opposite sides of the law. If 1973's Zanjeer created the Angry Young Man, Deewar brought him centrestage. The film was also hailed for its strong women characters - the mother who rejects her criminal son, and Anita, the gangster's girlfriend who drinks, smokes and falls pregnant.

That was 40 years ago. Here are 12 things only a true cine-fan would know about Deewar, four decades after it was made:

1.Yash Chopra's original wishlist was Rajesh Khanna as Vijay Verma, Navin Nischol as Ravi Verma and Vyjayanthimala as their mother. Salim-Javed, who had written the script with Shatrughan Sinha in mind, had a fallout with Rajesh Khanna and refused to have him in the film. Navin Nischol and Vyjayanthimala both refused their roles when they heard Rajesh Khanna would not be in the film. Yash Chopra then cast Amitabh Bachchan as Vijay. He almost offered the mother's role to Waheeda Rehman but decided against it because she was playing Amitabh's love interest in Kabhi Kabhie. He finally cast Nirupa Roy as the mother, and Shashi Kapoor as Ravi.

2.When the scene in which Vijay speaks to an idol of Shiva in a temple saying Aaj khush toh bahut hoge tum was shot, Amitabh Bachchan insisted that nobody but director Yash Chopra be present. It was shot at night and took Big B 15 takes to get right, because he was so intimidated by the thought of having to challenge God.

3.Amitabh Bachchan shot Sholay and Deewar at the same time - Sholay in the mornings, Deewar at night. Both Yash Chopra and Ramesh Sippy have credited him with never being late for either shoot.

4.Sholay wasn't the only film Amitabh Bachchan shot at the same time as Deewar. After Sholay wrapped, Yash Chopra shot Deewar and Kabhi Kabhie simultaneously and he would often worry that Amitabh Bachchan, who was starring in both films, would get confused between Kabhi Kabhie's dreamy poet Amit and Deewar's man at odds with society Vijay.

5.Writers Salim-Javed reportedly asked for an unheard of fee of Rs 8 lakhs for Deewar. They wrote the entire script and dialogue in one go, taking 45 days. At the first reading, every actor was given a bound, completed script, which was a rarity at the time.

6.On most nights, the cast and crew would feast on street food after pack up, often paid for by Amitabh Bachchan. On the night the climax was being shot at Mumbai's Ballard Pier, they had to stop because it started raining. So they drove to Bhendi Bazaar and Amitabh treated everyone to junk food.


7.There were no dialogues written for Amitabh Bachchan's death scene. Yash Chopra allowed him to ad lib the entire scene.
8.Producer Gulshan Rai read the script twice and cried both times.
9.Amitabh Bachchan's knotted shirt was a last-minute compromise when he found that the shirt he was to wear was too long and flapped around his knees. So he knotted it at the waist instead, starting a trend.
10.Salim-Javed and Yash Chopra planned to make
Deewar
minus songs. They had to admit defeat to producer Gulshan Rai who insisted on having songs and R D Burman was roped in to compose the soundtrack which included the hit number
Kehdoon tumhe
.
11.However, the writers refused to compromise on the name of the film, which was criticized by the crew as being too dry. Whenever the subject was brought up, they would joke "Let's call it
Geeli Deewar
, dryness
chali jayegi
."
12.The dubbed English version of the film was called
I'll Die For Mama
.