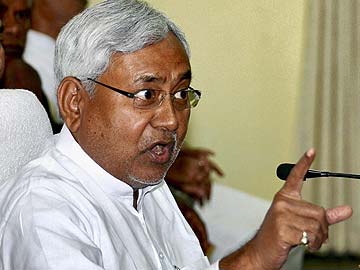 New Delhi:
Nitish Kumar, say those who have interacted with both men, bears much similarity to his arch political rival
Narendra Modi
.
Both are 63, both got their political baptism during the anti-Emergency movement led by the late Jayaprakash Narayan or JP, both are accused by critics as being arrogant and stubborn, both belong to other backward castes or OBCs, and both have lived away from family to passionately pursue their political careers.
But Nitish Kumar does not seem to have made the kind of canny decisions Mr Modi has. The latter will be resigning soon as Chief Minister of Gujarat because he is on his way to becoming the next Prime Minister of India.
Nitish Kumar on the other hand has resigned as Bihar chief minister today because he received a drubbing at the hands of Mr Modi's BJP in the general elections, results for which were announced yesterday. His party has won two of Bihar's 40 seats. The BJP and its allies picked up 31.
The decision that seems to have spelt disaster for Mr Kumar is also linked with Mr Modi. Last year he snapped his party's 17-year-old alliance with the BJP to signal his displeasure at the elevation of Mr Modi in his party. He said it was clear that the BJP was preparing to project Mr Modi as its prime ministerial candidate. And that it was not acceptable to him as that would make Mr Modi the PM candidate for the NDA, the national alliance that the BJP leads.
The BJP proved him right only three months after the split.
Mr Modi's party accuses Mr Kumar of harbouring a long-standing desire to be prime minister. Mr Kumar has repeatedly laughed this off.
In the 2009 national election, Mr Kumar's JD(U) had won 20 seats, while then junior partner BJP got another 12. The allies followed it up by putting up a very impressive performance in the assembly polls held over a year later, winning a two-thirds majority in an assembly with a strength of 243- the JD(U) 115 and the BJP 91 assembly seats.
Interestingly, Mr Kumar was among the first leaders to support a tie-up with the BJP way back in 1995. The Samata Party, which was then headed by George Fernandes, Mr Kumar's friend-cum-mentor, had tasted a humiliating defeat in the assembly elections held that year. The two leaders got in touch with Atal Bihari Vajpayee and LK Advani, BJP leaders who were together with them in the anti-emergency fight and the two parties struck an alliance in Bihar.
In 1998, when Mr Vajpayee became the country's prime minister, Mr Kumar and Mr Fernandes became key players in the NDA and were handed important portfolios. Mr Kumar became the railway minister.
In November, 2004, the BJP unilaterally declared Mr Kumar the NDA's chief ministerial candidate for the assembly elections that were to be held three months later. The BJP-JD(U) alliance emerged as the largest pre-poll combination in the elections held in Bihar in February, 2004, but stopped short of securing a clear majority.
President's rule was imposed in May, but in the elections held again in November, the alliance won a comfortable majority. Mr Kumar became the chief minister.
Nitish Kumar was born in a Kurmi family. His father was a ayurveda practitioner. He studied in Patna and has a degree in mechanical engineering.
Mr Kumar's wife was a school teacher who died a few years ago. They were reportedly estranged. He has one son.