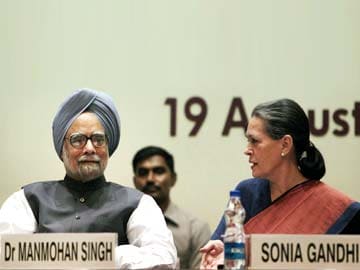 Amid predictions of a rout for the ruling Congress, Sonia Gandhi has stepped in to stop senior leaders of the party from blaming Prime Minister Manmohan Singh. The party president has reportedly said there should be collective responsibility for defeat and Dr Singh should be defended. (
Congress Will Find a Scapegoat in PM: BJP
)
The message comes at a time Congress leaders are seen to be trying to firewall Sonia Gandhi's son
Rahul Gandhi
, who led the party's campaign, from criticism after the election verdict on Friday. (
Arun Jaitley Blogs on Prime Minister Manmohan Singh
)
Exit polls show that the Congress faces what could be its worst-ever showing after 10 years in power.
The Prime Minister is expected to demit office on Saturday. He spent his last day at work yesterday. (
Sonia Gandhi to Host Farewell Dinner for Prime Minister Manmohan Singh today
)
During the campaign, some party leaders had talked about "lack of decisive leadership" and failure to project the government's achievements, which were seen as jibes at Manmohan Singh.
Sources say it was at Mrs Gandhi's instance that the Congress made a statement thanking the prime minister on Tuesday.
"Dr Singh's experienced and seasoned stewardship, his personal integrity and ability to lead the country through difficult times are noteworthy and India is proud to have earned so many laurels and respect during the 10 years," Congress spokesperson Abhishek Manu Singhvi said.
Today, Sonia Gandhi will host a farewell dinner in which Dr Singh will be gifted a memento signed by top Congress leaders and Union Ministers.
On Tuesday, several Congress leaders insisted that Friday's results would not be a judgement on Rahul's performance. Among them was union minister Kamal Nath, who said, "The results will be based on government performance and Rahul Gandhi is not a part of the government." (
Congress Distances Rahul Gandhi from Potential Poll Debacle
)
The BJP, which most exit polls say will post its biggest victory, derided the Congress for using the Prime Minister as a scapegoat.
"The mantra in the Congress is to blame others in case of something bad while giving all the credit to the Congress President and Vice-President," said BJP spokesperson Prakash Javadekar.
The Congress has always spoken of the relationship between the Prime Minister and Mrs Gandhi as an ideal division of roles, and dismissed as "rumours and disinformation" reports of differences between the two.