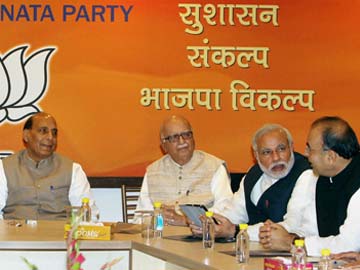 New Delhi:
The BJP's election committee is expected to decide today who the party will field against Congress president Sonia Gandhi and her son and deputy
Rahul Gandhi
in their Uttar Pradesh constituencies of Rae Bareli and Amethi.
The party reportedly wants to put up strong candidates and is said to be considering para-dropping television actor-turned-politician Smriti Irani in Amethi to take on Rahul Gandhi.
(Smriti Irani vs Rahul Gandhi fight likely in BJP strategy for Gandhi strongholds)
For Rae Bareli, it is expected to discuss among other names, yoga teacher Baba Ramdev's suggestion that the fiery Uma Bharti be fielded against Sonia Gandhi.
The unspoken rules of the game have changed in this election and political parties seem to be bucking the trend of not putting up strong candidates against top leaders of rival parties. The Congress signaled that change when it announced that Rahul Gandhi's close aide Madhusudhan Mistry would take on
Narendra Modi
, the BJP's prime ministerial candidate, in Vadodara.
The party is yet to announce a candidate against Mr Modi in the other constituency he is contesting from - Varanasi in Uttar Pradesh. Sources said today that the party would announce a name in two days and has promised a tough fight.
The Congress nominee in Varanasi will also have to contend with
Arvind Kejriwal
of the Aam Aadmi Party, who has declared war on Narendra Modi.
The BJP has reportedly held discussions with its ideological mentor the Rashtriya Swayamsevak Sangh or RSS, on who to field against the Congress' top guns in the two constituencies that have been loyal to the Gandhi family for decades.
The party reportedly sees Smriti Irani as a candidate who can put up a credible fight in Amethi. The 38-year-old became a household name with a popular Hindi serial that stopped airing in 2008. BJP sources say Ms Irani has little to lose as she still has four years left in the Rajya Sabha.
Sources in BJP say the party does not want want Uma Bharti, 54, to fight from two seats. It wants her to focus on Jhansi - from where she has been nominated - which may impact the BJP's fortunes in the Bundelkhand region, that covers portions of both UP and Madhya Pradesh, where Ms Bharti is from.
(Anti-climax. No Uma Bharti vs Sonia Gandhi after all)