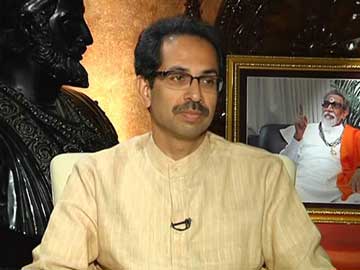 Mumbai:
Uddhav Thackeray, the head of the Shiv Sena, is receiving much attention today from the BJP, which wants to reassure him that their 25-year-old alliance is a priority and not in danger.
As part of that outreach, Rajiv Pratap Rudy, a senior BJP leader who is in charge of Maharashtra, met Uddhav Thackeray at his Mumbai home.
"We met Mr Thackeray at his residence Matoshree; the meeting was held in an amicable environment. I want to say that Shiv Sena is an indestructible part of the NDA," he said.
The Sena chief is smarting over the BJP's recent expression of interest in his estranged cousin, Raj Thackeray, who heads the Maharashtra Navnirman Sena or MNS. Without joining the BJP's alliance of five parties in Maharashtra, Raj Thackeray has agreed to back the BJP's prime ministerial candidate, Narendra Modi.
"Who runs the BJP's affairs here in Maharashtra? Because many people are speaking in different voices here," Uddhav Thackeray said at a press conference this afternoon, pointedly adding "The Sena has supported the BJP in many difficult times."
The tenor of his remarks was sharper than an editorial in the Shiv Sena newsmagazine this morning which professed, "The alliance between the Shiv Sena and BJP is the oldest in the country... nobody needs to worry, it is strong."
Raj Thackeray recently announced that his party will meet the BJP half-way on the request it made to him: he has turned down its request to sit out the national election, but he has said that if his candidates win, they will support Mr Modi.
As an irritant to his cousin, Raj Thackeray is fielding five candidates against the Sena, and just one against the BJP. The message is clear: it's Thackeray vs Thackeray in this election. Raj Thackeray's candidates are likely to eat into the Sena's votes, helping the incumbent coalition of the Congress and Sharad Pawar's party.
This morning, the state BJP chief Devendra Fadnavis visited Uddhav Thackeray as a make-good and told reporters that unnecessary attempts were being made to create "misunderstandings" between the BJP and the Shiv Sena.