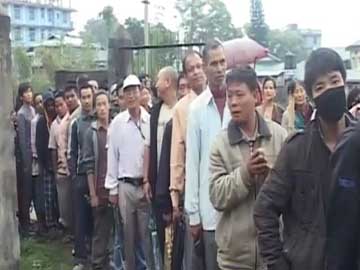 New Delhi:
Six constituencies spread across four northeastern states of India are voting today on the second day of the nine-phase national election to pick a new government at the Centre. (
India Votes 2014: full coverage
)
Voting is being held in one seat each in Nagaland and Manipur and two seats each in Arunachal Pradesh and Meghalaya. (
Candidate details
) | (
Schedule details
)
Today, 11,79,881 people are eligible to vote.
Elections to the sole Lok Sabha seat in Mizoram was postponed to April 11 on Tuesday following a state-wide shutdown called by various groups against voting rights to the refugee Bru tribals staying in camps in neighbouring Tripura.
In Meghalaya, the Tura constituency has seen brisk voting since morning. Former Lok Sabha Speaker Purno Sangma is the candidate here, representing his new National People's Party launched last year.
In Arunachal Pradesh, simultaneous elections are being held for 49 of the state's 60 assembly seats.
Nagaland's lone Parliamentary seat has three candidates in the race - Chief Minister Neiphiu Rio (NPF), Congress' KV Pusa and Akheu Achumi of Socialist Party (India).
In the Outer Manipur Lok Sabha seat, one of the two Lok Sabha constituencies in Manipur, an Aam Aadmi Party candidate is also in the contest, along with those of the BJP, Congress, Trinamool Congress, Naga People's Front, NCP and JD(U).
Prominent candidates are sitting Congress MP Thangso Baite, Gangmumei Kamei (BJP), C Doungel (NCP), Kim Gangte (Trinamool Congress), Soso Lorho (Naga People's Front), L Gangte (JD-U) and MK Zou (AAP).
Polling for the second seat in the state, Inner Manipur constituency, will be held on April 17.