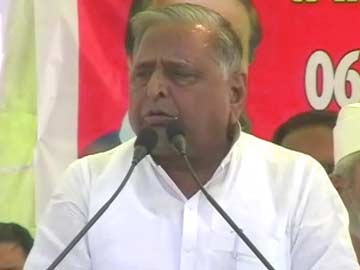 New Delhi:
The parents of the young student who died after being gang-raped on a moving bus in Delhi in December, 2012, on Friday condemned Uttar Pradesh politician Mulayam Singh Yadav's comment that three multiple rapists sentenced to death in Mumbai "made a mistake" and did not deserve to be hanged.
"If a gang of people rapes a woman, it is not a mistake... it is a crime," said her father today. "Mulayam Singh considers himself a prime ministerial candidate. If people at such position speak like this, what will our nation come to?"
On Thursday, Mulayam Singh, the chief of Uttar Pradesh's ruling Samajwadi Party, said, "Boys and girls... they had differences, and the girl goes and gives a statement that I have been raped. And then the poor fellows, three of them are sentenced to death in Mumbai. Should rape cases lead to hanging? Boys are boys, they make mistakes. We will try and change such laws...we will also ensure punishment for false cases." (
Watch video
)
The 74-year-old was addressing a rally while campaigning for the national election at Moradabad.
The three men he referred to were the first to be sentenced to death last week under a new law that punishes repeat rapists; they were found guilty of gang-raping a photo-journalist and a telephone operator at different times at the abandoned Shakti Mills in the heart of Mumbai. (
Shakti Mills gang-rapes: 3 get death for repeat rapes
)
Mulayam Singh has promised in his party's poll manifesto to check "the large-scale misuse" of tougher anti-rape laws enacted after the Delhi gang-rape. (
India Votes: Full coverage
)
Four men were sentenced to death last year for the gang-rape that changed India in many ways. The young woman died in a Singapore hospital 16 days later; she had been raped for hours and tortured with an iron road. (
read: death sentence for Delhi gang-rape convicts
)
Her mother called Mulayam Singh a "shameless and disgusting" politician. "People like Mulayam have no right to stay in power. We appeal to people that such people should not be allowed to come into power," she said. (
read: reactions to Mulayam's shocker on rape
)
Angry reactions on social media have made #backingrapists and 'Mulayam Singh' the trending topics on Twitter.