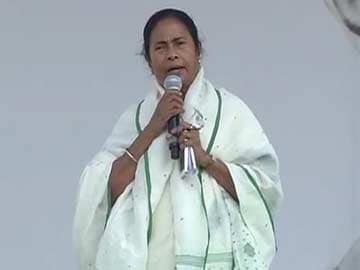 New Delhi:
It was supposed to be Mamata Banerjee's launch vehicle for national politics. But just days after rooting for her as Prime Minister, anti-corruption crusader Anna Hazare embarrassed the Trinamool Congress leader by standing her up for what was supposed to be a joint rally in Delhi's Ram Lila Maidan.
Anna's team members say that they took their cue from the unenthusiastic crowd at the grounds where he had begun his ant- corruption campaign in 2012 with then protege, Arvind Kejriwal.
But Ms Banerjee, attempting to hide her anger, told NDTV that the lack of crowds was not her fault as she hadn't organised the rally; she was an invitee.
"I am not bitter, not at all,'' she said, "I thank him for the endorsement and wish him well.''
But while her aide Mukul Roy attempted to cajole Anna Hazare into making an appearance, Mamata thundered on stage, "I don't care who supports me, my fight will go on. I have important things to do in Kolkata but I came because I made a promise.''
Speaking to NDTV later, and much calmer, the Trinamool leader said she heard about Anna's illness only after arriving at the venue.
At least an hour before she arrived, however, Anna's aide Sunita Godara told TV cameras that he wasn't feeling well and the sun was too harsh.
Mamata tried to explain the thin crowd saying it was a working day and it had rained the night before.
But the Bengal Chief Minister quickly turned the focus onto her allegation that the Left, Congress and BJP were trying to eliminate her. She clarified that the threat was "both political and physical and was always there." Her charge triggered angry political reactions.
While she dismissed any Prime Ministerial aspiration, she rubbished the idea of BJP's Narendra Modi being the main challenger to the Congress-led UPA. "He is not an opponent,'' she said, "It is all a show.''