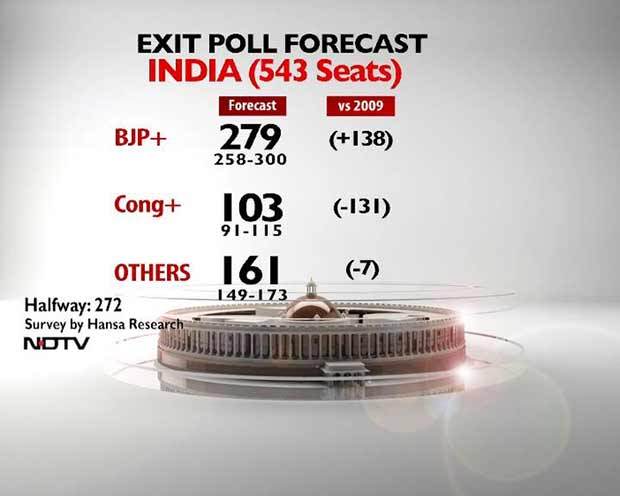 Uttar Pradesh will play a starring role in
Narendra Modi
's move to Delhi at the head of a BJP-led National Democratic Alliance government, NDTV's Exit Poll shows. The NDA is set to win 279 seats, seven more than the majority mark at 272. (
The BJP's New A-Team
)
UP, playing to the script of Mr Modi's chief aide
Amit Shah
, is set to give 56 of its 80 seats to the BJP, which had five years ago won only 10. The Samajwadi Party at second spot is likely to get 12, the Bahujan Samaj Party eight and the Congress four seats. Each had more than 20 seats in 2009. (
NDTV Exit Poll: BJP to Cross 50 Seats in Uttar Pradesh
)
The UP debacle is expected to reflect in the ruling Congress' performance overall. It could end up with 79 seats, the exit poll shows. India's oldest political party has never had a double-digit strength in Parliament before.
Together with its allies in the UPA, the Congress is set to get only 103 seats. It had won 257 seats in 2009 to form a coalition government with the help of allies.
The BJP is likely to contribute 235 to the NDA's 279, the Exit Poll shows.
A chunk comes from Maharashtra, where the BJP's five-party alliance is set to take 34 of the 48 seats, apart from the expected big hauls in Rajasthan and Madhya Pradesh. (
NDTV Exit Poll: BJP-Shiv Sena Make an Emphatic Comeback in Maharashtra
)
Gujarat, set to give the country its next Prime Minister, is likely to hand all but four of its 26 seats to the BJP.
In Bihar, chief minister
Nitish Kumar
's dismissal of the BJP as partner will mean the latter could romp home with 22 of Bihar's 40 seats along with its new allies. The
Lalu Prasad
-Congress combine could salvage some pride at 14 seats, up quite a few from the disaster that was 2009. Nitish Kumar is set to be the big loser. (
NDTV Exit Poll: Split With BJP Could Be Nitish Kumar's Worst Mistake
)
The BJP is likely to be rewarded for its canny alliance in the Seemandhra regions of Andhra Pradesh with the Telugu Desam Party. The Telangana region, which will be a new state in three weeks, is rooting for the Telangana Rashtra Samiti. (
NDTV Exit Poll: Telangana Firmly With KCR, Low Returns For Congress
) (
NDTV Exit Poll: Seemandhra Split Between Naidu and Jagan, No Room for Congress
)
In Tamil Nadu, the headline is not so much the two seats the BJP's rainbow alliance is expected to get as much the feelers that
J Jayalalithaa
's party has sent Mr Modi's way. The Tamil Nadu chief minister's AIADMK is expected to get 32 seats and an offer of support from her will mean the NDA will be assured of over 300 MPs and stability. (
NDTV Exit Poll: More Power to Jayalalithaa in Tamil Nadu
)
Arvind Kejriwal
's Aam Aadmi Party fielded over 350 candidates all over India. It could win two seats in Delhi, where it led a coalition for 49 days this year, and, in a notable breakthrough, two seats of 13 in Punjab, where the Congress and BJP ally Akali Dal have traditionally fought direct battles. (
Aam Aadmi Party to open account in Punjab, says NDTV Exit Poll
)