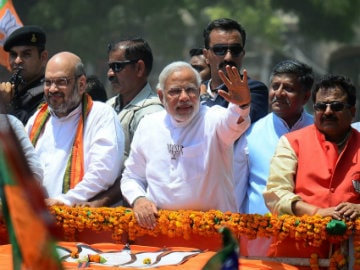 Beijing:
China and India may come closer if Bharatiya Janata Party's (BJP) prime ministerial candidate Narendra Modi comes to power, but his victory could upset the United States and western powers, an article in an influential state-run Chinese daily said on Tuesday.
A write up in the state-run Global Times, an official publication of the ruling Communist Party of China (CPC), said "Mr Modi was once a practical businessman. After he got into politics, he established good relations with China."
"A large number of Chinese enterprises invested in Gujarat, contributing to the economic development of the state. Therefore, ties between China and India may become closer under Mr Modi's leadership," the article said.
The article written by Liu Zongyi, a strategic analyst from the state-run Shanghai Institute for International Studies, said Mr Modi's victory may not be palatable to western countries like the United States, which has denied a visa to the Gujarat Chief Minister for his alleged role in the 2002 riots.
Without directly referring to Mr Modi's remarks against China on the border issue while campaigning in Arunachal Pradesh, where he had said China should shed its "expansionist policy", the article said a section of the Western media and observers are "hyping up" his remarks to foment discord between China and India.
Get Breaking news, live coverage, and Latest News from India and around the world on NDTV.com. Catch all the Live TV action on NDTV 24x7 and NDTV India. Like us on Facebook or follow us on Twitter and Instagram for latest news and live news updates.