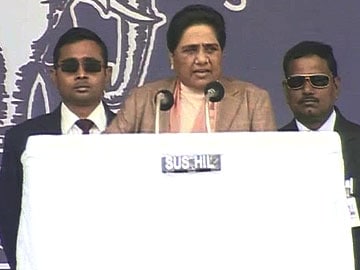 Nagpur:
Bahujan Samaj Party (BSP) chief Mayawati will address a public rally in Amravati tomorrow morning, which would be her only one in the Vidarbha region, before flying to Nashik for another rally there, party sources said here today.
She would also launch the BSP's campaign from Amravati tomorrow at a 10 am rally, at Science College Grounds, before flying to Nashik.
BSP's candidate from Amravati, Gunwant Deopare, who heads a real estate construction group, is pitted against sitting MP Anand Adsul of the Shiv Sena and NCP candidate, actress Navneet Kaur Rana, sources said.
BSP's main target is the RPI faction led by Rajendra Gavai which has to rely solely on Dalit votes in the absence of Congress and NCP support which it had always received in the past, sources said.
However, this time the NCP ditched Mr Gavai's RPI faction, which was its ally for quite some time and nominated its MLA Ravi Rana's wife Navneet Kaur Rana from the seat, leaving Mr Gavai to fend for himself, sources said.
After her success in the country's most populous state of Uttar Pradesh from where she became chief minister twice, the BSP supremo has been desperate to make inroads into Maharashtra for more than a decade.
Despite contesting almost all Lok Sabha seats in Maharashtra, the BSP has not only failed to open its account even in the state assembly, but also failed to inherit the Buddhist and Dalit vote bank, even after the Republican Party of India's (RPI) disintegration.