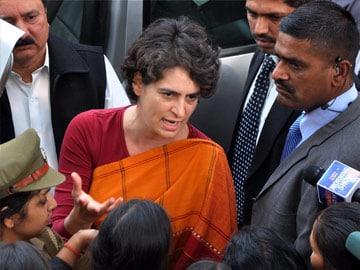 Amethi, UP:
Priyanka Gandhi Vadra
today said Manmohan Singh was the only "super Prime Minister" in the UPA government. (
India Votes 2014: Track complete coverage here
)
She was fielding questions on comments made by Sanjaya Baru, a former adviser to the PM, who has alleged in his recently-released book that Priyanka's mother and Congress president Sonia Gandhi and not Dr Singh called the shots in the UPA government. (
Row over book by PM's former media advisor Sanjaya Baru
)
"It is no secret that Sonia Gandhi was the super Prime Minister," Mr Baru has been quoted as saying after the release of 'The Accidental Prime Minister.'
Priyanka, 42, told reporters today, "I think Manmohan Singh ji is the super PM."
Ms Vadra is campaigning today in Amethi, her brother
Rahul Gandhi's
Lok Sabha constituency. She is managing his campaign in Amethi and that of her mother in the latter's constituency Raebareli, also in Uttar Pradesh.
Asked about the BJP's criticism of
Sonia Gandhi's election appeal on various TV channels last night
, Priyanka said, "Whatever the BJP might say, but the fight of India's heart is going on (in this election)".
Without naming either rival BJP or its leader
Narendra Modi
in her telecast, Mrs Gandhi had referred to them as "those who want to divide the people of this country" and said, "We want unity. They want to impose uniformity. They say, 'Just believe in me'".
The Congress is headed for its worst performance ever in this election, according to opinion polls. The BJP, they predict, is set to register its best show yet.