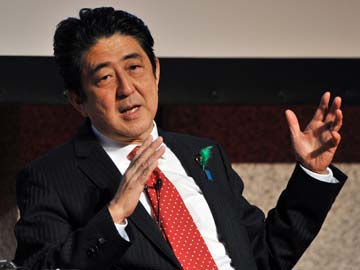 New Delhi:
Japanese Prime Minister Shinzo Abe has invited Prime Minister-designate Narendra Modi to continue with the annual summit meetings to work closely towards further development of the Indo-Japan Strategic and Global Partnership.
During the telephone call yesterday, Mr Abe asserted that the Japan-India relationship is blessed with "the largest potential for development of any bilateral relationship anywhere in the world".
"I whole heartedly congratulate you on the historic victory of BJP in the General Elections. Japan and India are sharing fundamental values and strategic interests as the two biggest democratic countries in Asia...
"I would like to work closely with you towards further development of the Japan-India Strategic and Global Partnership. For that purpose, I would like to invite you to Japan to continue the annual summit meetings between the Prime Ministers of Japan and India," he said.
In response, Mr Modi thanked Mr Abe for his warmhearted congratulatory statement, saying Japan has made a significant contribution to the development of India and he would like to express his deep gratitude to the Japanese people and their government.
"Personally, I have a wonderful experience of working with you and I would like to cooperate with you to take India-Japan ties to newer heights from now on. I appreciate your inviting me to visit Japan. I look forward to meeting you," Mr Modi said.
Mr Modi addd, "Japan and India are traditionally tied with common cultural values and we are recently promoting our mutual strategic partnership. India is facing various problems domestically and internationally but I will work to squarely address these problems since we are given a clear mandate by the people of India."