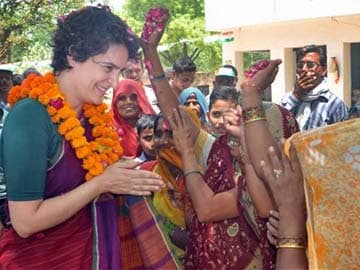 Amethi:
Narendra Modi
, the BJP's prime ministerial candidate, for the first time attacked Priyanka Gandhi directly in Amethi, the constituency of her brother
Rahul
, who is also fronting the Congress campaign for the national election.
"Look at the arrogance of the Congress, one of their leaders says 'Who is Smriti Irani?'," Mr Modi said today. "When arrogance reaches its zenith, people lose basic courtesy. I'll tell them who Smriti Irani is. She is my younger sister... and she is here to piece together Amethi from your sins." (
Highlights of Narendra Modi's speech
)
His onslaught today was triggered by Priyanka
responding with a dismissive "who?"
when reporters asked her yesterday about Smriti Irani. Mr Modi, 64, exhorted voters at his lengthy speech in Amethi to support Ms Irani. "I did not send her here to add to Rahul
bhaiyya
's troubles," he mocked, "he is already in despair. I have sent Smriti here to reduce Amethi's problems." (
Priyanka Gandhi Vadra Attacks Me Just to Grab Headlines: Smriti Irani
)
So far, in his rallies, Mr Modi has been scathing of Rahul Gandhi and his mother Sonia, and accused them of helping Priyanka's husband, Robert Vadra, of amassing an illicit fortune through sweetheart land deals. Despite regular barbs from Priyanka, 42, Mr Modi had so far not targeted her. He has said that he understands her need "as a daughter" to defend her mother and brother in the election campaign.
In a litany of taunts to the Gandhis today, Mr Modi said, "Let them abuse me as much as they want to. There are just days left now... I'm glad I could at least serve as an outlet for their anger."
Amethi votes on Wednesday. Arvind Kejriwal's Aam Aadmi Party (AAP) has put up Hindi poet Kumar Vishwas as its candidate.