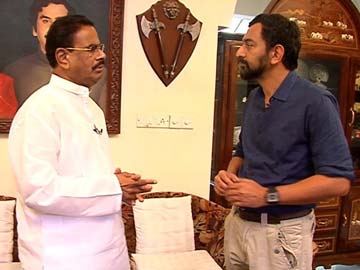 This is no ordinary election season for Tamil Nadu Chief Minister J Jayalalithaa: she has been positioned by her party as a Prime Ministerial candidate, making the contest in Tamil Nadu more keenly watched than ever. But even as Jayalalithaa takes her rivals - the DMK - to task over allegations of corruption, she too battles a controversial legacy that goes back to 1991, to her first term in power.
At that time, members of the family of Sasikala Natarajan were lodged in her Poes Garden residence in Chennai, leading to allegations that the Sasikala family was acting as an extra-constitutional authority, taking key decisions and using their proximity to the Chief Minister to build a vast business empire. When the DMK came to power in 1996, it brought a number of cases against Jayalalithaa, mostly pertaining to allegations of corruption in her joint business dealings with Sasikala and her family. Today, all cases have closed bar one - that Jayalalithaa, along with Sasikala and two of her relatives, amassed 66 crores of assets from unexplained wealth.
In 2012, Jayalalithaa went on to evict Sasikala and all her relatives from her house, beginning with her husband, M Natarajan. Sasikala herself was allowed to move back in two years ago, though in a diminished capacity. Yet, for an association that cast such a long shadow on her political career, very little is known of how the Sasikala family became such a strong influence in the life of Jayalalithaa, and whether they indeed exerted the kind of influence that is alleged by Jayalalitha's rivals.
For the first time, M Natarajan, the estranged husband of Sasikala, spoke to us at his residence in the town of Tanjavur, five hours south of Chennai. He described in great detail the association his wife and he shared with Jayalalithaa. Natarajan, who by his own description comes across as a Svengali-like figure, says he has chosen to break his silence because he can no longer endure the bitterness of being cast aside by Jayalalithaa despite his playing a key role in her transformation from a political novice to one of the most powerful politicians in the country.
These are edited excerpts of the full interview. (
Watch: Truth vs Hype- The Contenders of 2014 - Jayalalithaa's Splendid Isolation
)
In some cases, minor grammatical changes have been made for greater coherence. Annotations in (..) for context.

"Karunanidhi conducted the rituals for my marriage with Sasikala"NDTV
: What is your background?
Natarajan
: Actually, my earlier days of college took me towards Dravidian politics, as a student leader from Tanjavur. We were fighting in the anti-Hindi agitation which took place in 1965. From that time. I had association with DMK.
NDTV
: When did you get married?
Natarajan
: In 1973. After the sudden demise of the great (CN) Annadurai, then Chief Minister, we were all given jobs in the state administration by M Karunanidhi, who became chief minister
(Natarajan was made a Publicity Assistant in the Information and Publicity Department). So since then we have a close association. Karunanidhi conducted my marriage rituals with Sasikala. He was invited by Mr. L. Ganesan (another student leader).
NDTV
: When did you first meet Jayalalithaa?
Natarajan
: Jayalalitha joined MG Ramachandran in 1980-82, somewhere '81-'82 she joined the party (After Annadurai's death, the DMK split. MGR formed the AIADMK and was elected to power as Chief Minister). She was asked to attend the centenary meeting of Subramaniyam Bharatiyar (the freedom fighter) where I was officer in charge of the celebrations. Later on, the district collector (of South Arcot district) Chandralekha introduced Sasikala to Jayalalithaa. Sasikala was running a shop that rented video cameras. Jayalalithaa's programmes were covered by Sasikala's team.. through that some good association developed.
NDTV
: So when did that become a political association?
Natarajan
: Jayalalithaa informed me that in one of the AIADMK's general councils when MGR was alive, they were trying to take her off the party. So I requested her to address the meeting, even though if you are not given a chance. (The faction in the AIADMK led by MGR's wife Janaki resented Jayalalithaa and made attempts to oust her from the party)
NDTV
: You were advising her as a political strategist?
Natarajan
: Yes, that helped her. When I came to know at midnight 2:30am of MGR's death [in 1987], I woke up my wife and asked her to inform Jayalalithaa and take her to MGR's house. When she returned, we took her to the main venue, Rajaji Hall, where MGR was laid to rest. She faced a hostile reception there. Those people (loyal to MGR's wife Janaki) used everything there, using the pin to prick her, using the chappal to hit her and high heel shoes. I was making some safeguards, protection wing I have put and not withdrawn.
"We brought down the DMK government in 1991"NDTV
: In 1991, she was elected for the first time. What was your role in that process?
Natarajan
: In the dismissal of the DMK government, I played a small role, which Subramanian Swamy and late PM Chandrashekhar know about. We created the situation to dismiss the DMK government, for which madam Jayalalithaa didn't go to Delhi at all.
NDTV
: The reason cited to dismiss the DMK government in 1991 [the DMK had been in power for 2 years] was the Jain Commission report, which found links between Mr Karunanidhi and the LTTE?
Natarajan
: No no, that was one of the reasons, but main thing was we were planning to tackle DMK after seeing the big rally conducted in Madras. It was a seven hour-long rally, as part of the birthday celebrations of MGR, and an MGR statue opening in Anna Salai in Madras. As Prime Minister, Rajiv Gandhi participated in that rally conducted by AIADMK (The Congress and the AIADMK were in alliance at that time). She (Jayalalithaa) did everything in that. After seeing the big turnout, by seeing people come on the road sent a message to Rajiv Gandhi that Karunanidhi is nothing here.
"I told Jayalalithaa who to appoint.. She had no other option"NDTV
: After the 1991 election, Jayalalithaa came to power and became Chief Minister. How closely were you involved in the decision-making process, as is alleged?
Natarajan
: Since Jayalalithaa and all ministers were new for the administration except few ministers who had worked under MGR...all of them were new... therefore I as an officer served under the government for 20 years, I had access to information and officials with whom I had worked, therefore I was able to pinpoint to the good people. I indicate, which she accepted honourably because she had no other option. At that time she had no access, now she is well-versed with everybody.
NDTV
: Who did you recommend?
Natarajan
: Even the Chief Secretary. That was my suggestion. I set one theory, if not directly to her, through my wife and my family. I drew a triangle - the chief secretary, the private secretary and the home secretary. These three are vital. These three had to be different people who should not be allowed to come together. If they did, they will rule, but if you keep them under control, you will rule.
(This is an extraordinary assertion, all the more since Natarajan at that time was only a Deputy Director in the Information and Publicity Department)
NDTV
: But in a democracy, how can you have an extra-constitutional authority?
Natarajan
: Why do you admit Karunanidhi's family, 8-9 families to run around? You accept that? I am asking the same question -if that is admissible, then this is also admissible.
NDTV
: What about the allegations that Jayalalithaa formed companies with family members of Sasikala?
Natarajan
: Before 1991, the real company was formed called Jaya Publications . At that time, there were four members: Jayalalithaa, Sasikala, Dinakaran and Diwakaran (Sasikala's nephews)
NDTV
: It was alleged that this company bought expensive government land from the Tamil Nadu Small Industries Corporation (TANSI) on the cheap..
(The TANSI land case was one of several cases brought against Jayalalithaa by the DMK and Subramaniam Swamy. A trial court had convicted Jayalalithaa, but she was later acquitted by the Supreme Court)
Natarajan
: It's not expensive land as you claim. It's a SIDCO-aided plot where a sick TANSI unit was lying for 15 years for auction. Even under MGR they had started the process, and continued under DMK, but nothing happened.
NDTV
: Was it a mistake for this company to have bought that land, given Jayalalithaa was Chief Minister?
Natarajan
: According to the Sarkaria Commission, government servants should not participate in the government auction for government property. So Chief Ministers and MP/MLAs are part of government service.
NDTV
: Did you try to advise them against it?
Natarajan
: Not directly, but through my family. At the time when she (Jayalalithaa) was about to pass the order in that line, the auditor misguided her, putting her into a problem. Later on it was resolved. I had even suggested that the property be returned back immediately.
"When you are behind a political force, money will come"NDTV
: Where was the money for all the investments made by the Sasikala family coming from?
(The current Disproportionate Assets case pending in a Bangalore court alleges that Jayalalithaa and the Sasikala family created a large number of companies, 23 in all, in the names of Sasikala's relatives, and acquired multiple properties using undeclared wealth)
Natarajan
: See, money for anybody who are coming to power, behind the leadership or behind the political force, many people will come to help you. For instance, I can borrow easily from the bank. Over a call I get somebody to give money. Like that it started. But it doesn't mean it's all Jayalalithaa's . Why do you say it's all Jayalalithaa's, it's not. It's not hers!
NDTV
: But what about the allegation of disproportionate assets (DA)?
Natarajan
: No! No! You subtract Jayalalithaa madam's. I am occupying some portions. How it can be disproportionate? I am not occupying any government position. I might have misused her position, misused her office also.
NDTV
: So you are saying that could be the properties and assets belonging to you and other members of the Sasikala family
Natarajan
: Yes, yes. Family only. It's not Jayalalithaa's.
"Jayalalithaa didn't break contact. I broke contact"NDTV
: If all of you were helping her so much - politically, financially and otherwise - then why did she break all contact with you?
Natarajan
: It's not that she broke contact. I broke and came out.
NDTV
: Why?
Natarajan
: See, she has her own way of functioning in which I didn't want to interrupt in between.
NDTV
: What was that?
Natarajan
: She feels after winning the election, nobody should claim that she won because of A, B or C ... There are two aspects to this. One is that if Natarajan and family are liquidated out of that area (Jayalalithaa's house), only then can DMK recapture that area. That is their primary agenda. To suit that idea, the officers at the helm of affairs who served under him.
NDTV:
What about allegations that you grabbed land to build a LTTE memorial in Tanjavur (Natarajan was arrested on land grab charges in 2012, and released on bail immediately)
Natarajan:
Real story was that I was associated with (the pro LTTE activist) Nedumaran who was a great supporter of the Eelam Tigers. So for his work I associated. In memory of how inhumanly our Tamil brothers were treated (in Sri Lanka), we wanted to build a memorial. I was helping monetarily, land etc though not directly. I used to lend a helping hand. That irked Jayalalithaa and in a later stage in the adjoining area, somebody kept construction material. They showed it as 'attempt to grab'. Can any attempt to grab be made? Attempt to murder can happen. Grabbing means you should grab.
"Sasikala is staying in Poes Garden only because of the DA case" NDTV:
Do you continue to have any contact with Sasikala?
Natarajan:
That is personal, you should not ask. You can read in my memoirs. If I say something, it will affect many things including the case.Why all of us are silent is because we are all involved in a connected case. Whatever we say won't only affect Jayalalithaa, but it also affect my wife, my brother-in-law's wife and my brother's son, who is like a son to me.

NDTV:
You are referring to the disproportionate assets case. You are saying that is the main reason why all of you are tied?
Natarajan:
Yes, that's why we are silent.
NDTV:
But why is Sasikala still staying in Poes Garden ?

Natarajan:
No nothing except the disproportionate income case. If it was not for it, Jaya herself would sent Sasikala out. Because it is her nature.

NDTV:
It's not because of deep friendship or a sense of loyalty.

Natarajan:
No, when you select a friend, you should select after giving it your full thought. After a thorough thought only you can select a person. After choosing a friend, one should not doubt their integrity and if doubts creep in, that will be the end of peace.
NDTV:
Do you hope Sasikala will return to you?
Natarajan:
After she comes out of the case she has already promised to the members of our family, if not to me, after the case is over 'I will come.' Till that time, everyone will remain silent. That's why they are all silent.