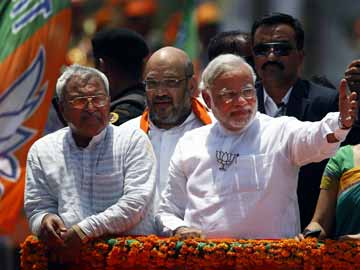 New Delhi:
Amit Shah
pointed out this evening that in Uttar Pradesh, the BJP is winning all but seven seats, which he said would go to members of the Congress' Gandhi family and those of Samajwadi Party (SP) chief
Mulayam Singh Yadav
's family. (
Election Results 2014: Landslide Victory, Check. Now, Forming a Modi Government
)
Mr Shah is the right hand man of
Narendra Modi
, who will be India's next Prime Minister. He is also expected to play an important role in the new government. In every strategic discussion that the party has held this week in anticipation of a big win, Mr Shah has figured. (
Election Results 2014: In BJP's UP Sweep, a Big Sign for India
)
He is the man that Mr Modi had handed the task of delivering the crucial state of Uttar Pradesh for the BJP in the general elections. Known for his election winning abilities, Mr Shah had 11 months to effect a 360 degree reversal - the BJP held 10 seats in UP and its cadres had been in disarray for years.
Today the BJP is set to win a mindboggling 73 of UP's 80 seats, a tally that has powered its overall tally to over 280 seats in the Lok Sabha. The BJP's best performance in UP previously was in 1998 - 57 out of 85 seats since Uttarakhand was yet to be carved out of it.
Amit Shah scripted the UP turnaround with a watertight strategy, drawing on the state's historical electoral dynamics like the caste factor.
The BJP fielded 25 members of other backward castes or OBC and 17 from Scheduled Castes and balanced that with 16 Brahmin candidates and 14 Rajputs. It allied with the Apna Dal, a party of Kurmis, an influential backward caste, giving it two seats.
In eastern UP, dominated by
Mayawati
's Bahujan Samaj Party (BSP) and the ruling Samajwadi Party, Amit Shah not just handled caste combinations deftly, he also played his ace, picking Varanasi, an ancient temple town seeped in cultural and political symbolism, as the seat Mr Modi, the BJP's prime ministerial candidate would contest from. He calculated that the Modi effect would also yield benefits in neighbouring western Bihar.
A few days before the region voted, he stoked controversy by describing Muslim-dominated Azamgarh, from where SP chief Mulayam Singh Yadav has contested, as a "hub of terror." It was an ill-concealed effort to polarise Hindu votes for the BJP in eastern UP.
Mr Shah also played on communal polarisation in western UP, recently scarred by deadly riots. He fielded three party leaders named in riot cases and made an incendiary speech in Muzaffarnagar, the epicentre of the riots, earning a temporary ban from campaigning from the Election Commission.
That's not the only controversy Mr Shah has been in recently. He is at the centre of a huge row over the alleged illegal surveillance of a young woman by the Gujarat police when he was the state's home minister.
He got a clean chit this month from the CBI in the 2002 encounter killing of Mumbai student Ishrat Jahan, but still faces murder and other charges in the Sohrabuddin fake encounter case and is out on bail.
He has been in prison and also spent almost two years exiled by court from Gujarat.