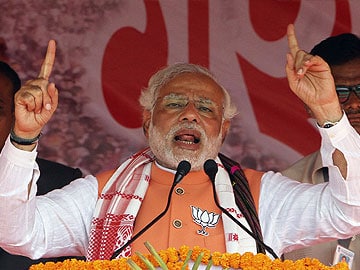 Sarguja, Chhattisgarh:
At a rally in Chhattisgarh today, BJP's prime ministerial candidate
Narendra Modi
made repeated barbs at the Gandhi family as he referred to Robert Vadra, Congress president's Sonia Gandhi's son-in-law, and the corruption allegations around him.
Citing a report in a US newspaper on Mr Vadra's fortunes, Mr Modi said, "They spoke about a Class X pass youth who had only Rs 1 lakh in pocket and then went on to own Rs 300 crore in three years. This is the mother-son's model. You heard about 2G, now hear about jijaji (brother-in-law). Do we have to leave this country in their hands?" (
Read: In Bihar rally, Narendra Modi's 'RSVP' jibe at the Gandhi family
)
He also slammed the Congress president for asking people to ensure victory of
Rahul Gandhi
in her speech yesterday.
"Sonia told the people in Amethi to take care of her son. We are told that he will take care of the country. Tell me is there any logic in this? One who is begging with the people in Amethi to take care of her son... if he can't handle Amethi, then how can he handle the country?" Mr Modi said at a rally in Sarguja.
Mrs Gandhi had
told a rally in Amethi yesterday
that the people should support policies of Congress and ensure victory of Rahul.
"I have handed over Rahul to you in 2004 following the tradition of Indira Gandhi, who had handed over her son Rajiv Gandhi to you," she had said.
Accusing the Congress vice-president of misleading the country on issues of women's safety, he said seven of the top 10 states in terms of crimes against women were ruled by Congress. "I think the new slogan of Congress is '
har haath loot har bol jhoot
' (Loot with every hand, all words are lies)."
Mr Modi also took a dig at the comments made by Prime Minister's communications advisor Pankaj Pachauri in a recent media interaction.
"For the first time the PMO had to do a press conference to say what, that the
PM spoke 1100 times in 10 years
," he said.
He said the PM's "performance" is that he spoke 1100 times in 10 years.
Referring to a book by Prime Minister's former media adviser Sanjaya Baru's, Mr Modi said it revealed that it was not Manmohan Singh but "ma-bete (Sonia-Rahul)" who were running the government.
He said Dr Singh was always criticised for all the bad things which happened in his government but now a former PMO official has disclosed that the real power was in the hands of Sonia Gandhi and Rahul.
Get Breaking news, live coverage, and Latest News from India and around the world on NDTV.com. Catch all the Live TV action on NDTV 24x7 and NDTV India. Like us on Facebook or follow us on Twitter and Instagram for latest news and live news updates.