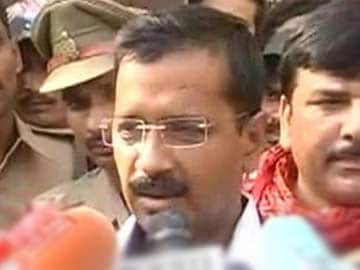 New Delhi:
After being decisively beaten by
Narendra Modi
in Varanasi,
Arvind Kejriwal
, chief of the Aam Aadmi Party or AAP, said today that he is disappointed with his party's result in Delhi, where it did not win a single of the seven parliamentary seats. (
India Decides 2014: Track Live Results Here
)
In December, Mr Kejriwal's fledgling party forged a result strong enough to keep the BJP from coming to power in the Delhi state election. Mr Kejriwal led a minority government, but resigned after just 49 days, a decision that he later described as a political miscalculation. (
Arvind Kejriwal resigns as Chief Minister over Jan Lokpal Bill: 10 developments
)
He took on the BJP's prime ministerial candidate in the holy city of Varanasi. "We had no money or resources," he said. But his combat with Mr Modi turned Varanasi into the most hotly contested territory of the national election. Some questioned the wisdom of Mr Kejriwal entering wilfully into what was seen largely as a symbolic fight in an election that was lionized by Mr Modi's big-bang, high-tech campaign. (
Narendra Modi, Arvind Kejriwal Locked in Blockbuster Battle in Varanasi
)
While Mr Kejriwal promised to continue with AAP's declared war on corruption, Mr Modi asked voters to elect him because he will recharge the economy and create jobs.
In Punjab, the AAP has four of the 13 parliamentary seats, an impressive debut for the party's first election here.
"The prospect of four seats in Punjab is unexpected. Our job is to provide a platform to a country that wants to drive change," the former tax inspector said.