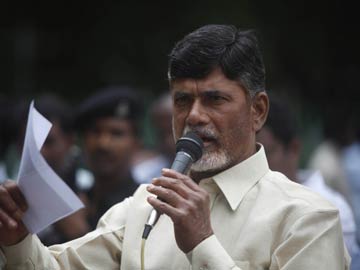 From being a Congress MLA from Chandragiri in Andhra Pradesh to being a pillar of anti-Congressism in India, Nara Chandrababu Naidu, 64, has travelled a long way.
The head of the Telugu Desam Party, or TDP, who has just stitched an alliance with Narendra Modi's BJP, exactly 10 years after dumping it, has now emerged as a key player in Andhra Pradesh. In the residual region of Seemandhra, the TDP-BJP alliance has, according to the latest NDTV opinion poll, leapfrogged YS Jaganmohan Reddy's YSR Congress to bag the pole position.
If the trend holds, Mr Naidu is expected to see a reversal in his fortunes. He has been in political wilderness in Andhra Pradesh since 2004, when the Congress, led by YS Rajasekhara Reddy, vanquished the TDP-BJP alliance in the assembly polls. Smarting under the defeat, Mr Naidu terminated his partnership with the BJP, and decided to go in for an image makeover by shedding his pro-reforms and pro-IT tag. He flirted with the Third Front experiment yet again, and vowed never to engage with the BJP.
But his party tasted defeat at the hands of Mr Reddy's Congress again in the polls held in 2009. It was only after the Andhra Pradesh chief minister's sudden death in a helicopter crash on September 2 that year that Mr Naidu saw a glimmer of hope in resurrecting his political career. But his efforts were stymied by the emergence on the state's political horizon of Mr Jaganmohan Reddy, son of the late YS Rajasekhara Reddy, and the Centre's announcement that it planned to create Telangana after splitting Andhra Pradesh.
The TDP leader has, since then, negotiated several twists and turns in his political career. He finally decided to forge an alliance with the BJP early this month, hoping to cash in on Mr Modi's growing popularity. "Mr Modi and I are 60 plus energetic youngsters,'' he told his party workers on April 9.
Mr Naidu was born on April 20, 1950 in Naravari Palle in the Chittoor district of Andhra Pradesh. He was attracted towards politics at an early age, and joined Youth Congress as a student leader in Chandragiri, near Thirupati. After emergency was clamped on the country in 1975, he came close to Sanjay Gandhi. In 1978, he was fielded as a Congress candidate from Chandragiri. He won, and was appointed as technical education and cinematography minister in T Anjaiah's government at the age of 28.
As the cinematography minister, Mr Naidu came in contact with NT Rama Rao, popularly known as NTR, the reigning superstar of Telugu cinema. In 1980, he married Bhuvaneswari, NTR's second daughter. Two years later, NTR formed the TDP, and swept the assembly polls held in 1983. Mr Naidu, who was then still in the Congress, was defeated by a TDP candidate in Chandragiri. He joined the TDP soon after.
Mr Naidu got the chance to show his political skills in August, 1984, when N Bhaskara Rao staged a coup against NTR. He rallied the TDP MLAs together, and paraded them before the President of India. NTR was reinstated as the chief minister of Andhra Pradesh 31 days later. Impressed with his son-in-law's manoeuvres, NTR appointed him as the TDP general secretary.
In 1989, Mr Naidu contested as a TDP candidate from Kuppam, which falls in Chittoor district, and won. After NTR returned to power in Andhra Pradesh in 1994, Mr Naidu became the finance and revenue minister. However, in August, 1995, he staged a coup against NTR, in an apparent attempt to pre-empt his second wife, Laxmi Parvathi from wresting control of the party. Mr Naidu became the chief minister on September 1, 1995.
He unleashed a series of reforms after taking over the reins of state. He reduced food subsidies, and raised power tariff. He showcased Hyderabad as the IT capital, and earned praise from global leaders such as British Prime Minister Tony Blair and American President Bill Clinton. In 1996, when the United Front government was sworn in at the Centre, he became the coalition's convenor, and played a key role in negotiations with the alliance partners.
When the BJP-led NDA stormed to power in 1998, he stunned the political circles by backing Mr Atal Bihari Vajpayee. In return, the TDP's GMC Balayogi became the Speaker of the Lok Sabha Speaker.