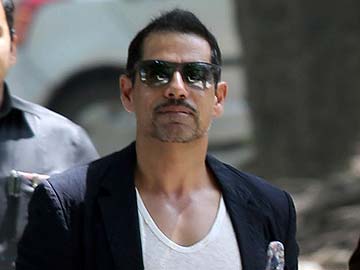 New Delhi:
The BJP today said its government in Rajasthan would investigate deals linked to Robert Vadra, the son-in-law of Congress president Sonia Gandhi, after the national election.
"It is not a matter of vendetta, but it is an electoral promise of our government in Rajasthan," the BJP's spokesperson Nirmala Sitharaman said. "Once the model code of conduct is lifted, the government will probe all the instances of malpractices during the Ashok Gehlot government. Every one of them will be investigated and action will be taken, and that includes Vadra."
Mr Vadra, who is married to Sonia Gandhi's daughter Priyanka, is accused of making a fortune through sweetheart land deals in Congress-ruled states like Haryana and Rajasthan. The Congress lost Rajasthan to the BJP in last year's state elections.
The BJP and its prime ministerial candidate
Narendra Modi
have been targeting Mr Vadra almost daily during their campaigns, but on Sunday, the party launched its strongest offensive so far, in the form of a video named "the Robert Vadra model of development". (read:
BJP's sharpest attack on Robert Vadra
)
Along with the 8-minute video, the BJP also released a six-page booklet titled 'Damadshree (son-in-law)' which refers to the alleged deals of Mr Vadra in Rajasthan and Haryana.
The party says Mr Vadra's deals were a "textbook case of corruption and crony capitalism under state patronage".
In response, the Congress said old and baseless allegations were being regurgitated as the BJP was rattled by Priyanka Gandhi Vadra's campaign in Raebareli and Amethi. (Read:
File an FIR against Vadra, Digvijaya Singh dares Arun Jaitley
)
The "Vadra model of development" was the BJP's direct answer to Sonia Gandhi's attack on Narendra Modi's Gujarat model of development. On Saturday, at a rally in Punjab, she described Narendra Modi's model as destructive and divisive and said, "God save the country from this sort of model. It has many problems."