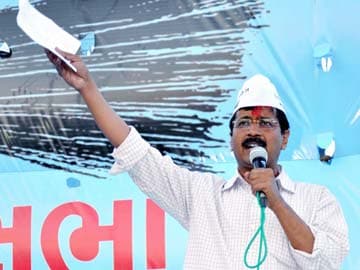 Ahmedabad:
After Aam Aadmi Party chief Arvind Kejriwal launched a stinging attack on BJP's prime ministerial candidate Narendra Modi at a rally in Ahmedabad yesterday, the party approached the Election Commission with a complaint.
The Gujarat BJP yesterday filed a complaint against Mr Kejriwal for his statement that Narendra Modi won three Assembly elections in the state either by "buying out" or "killing" his opponents.
The complaint said that making such allegations is a criminal offence under the Indian Penal Code. "It also violates Representation of the People Act and the model code of conduct," Gujarat BJP chief RC Faldu said in the complaint.
The party also submitted an audio CD of Mr Kejriwal's speech with the complaint.
Mr Kejriwal had made the statements at a large public rally in Narendra's Modi's bastion, Ahmedabad, where a rock was apparently hurled on stage. Mr Kejriwal said he is "thankful to God" that his encounter hasn't taken place yet. "Anything can happen in Gujarat," he said.
This came on a day when senior Aam Aadmi Party leader Yogendra Yadav was attacked in Delhi by someone who is apparently from his own party. Mr Yadav's face was smeared with ink.
The AAP says they don't want charges pressed against the attacker even though party leader Shazia Ilmi had said, earlier in the day, that there were indications that the BJP may be behind the attack.