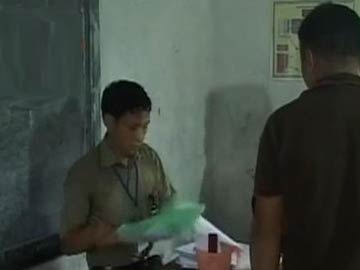 Itanagar:
Around 71 percent polling was recorded today in the simultaneous elections to Arunachal Pradesh's two Lok Sabha seats and the state assembly that was marred by violent incidents and the kidnapping of a Congress candidate from Khonsa (West) assembly seat.
Election authorities also suspended voting in four polling booths after miscreants burnt down poll material in the mountainous state, even as voting passed off peacefully in other booths.
Suspected National Socialist Council of Nagaland-Khaplang (NSCN-K) rebels abducted Congress candidate Yumsem Matey who is contesting from Khonsa (West) assembly constituency.
"Around 71 percent polling was recorded till voting came to an end at 5 p.m. We expect the percentage to increase as most of the polling officials are yet to report the total voting figures," state Chief Electoral Officer Chandra Bhushan Kumar told IANS.
Moreover, he said polling in almost all centres was by and large peaceful.
Kumar said the Election Commission will fix a new date for fresh voting in the four polling booths in Sarli in Kurung Kumey district.
"Voting in two other polling stations in Sisiang village in East Siang was suspended due to a boycott call by villagers protesting poor road connectivity."
Inspector General of Police (Law and Order) Satyendra Garg told IANS by phone that they heard about Matey's abduction by the NSCN-K rebels in the morning hours before voting. "But we were told that he has returned home," he said.
Two polling stations - Luguthang and Mago in Tawang district, bordering China - at a height of more than 13,000 feet above sea level in Arunachal West constituency, were among the highest in the country that are perpetually covered with snow.
In the assembly polls, 11 Congress candidates, including Chief Minister Nabam Tuki and two cabinet colleagues Tanga Bayaling and Pema Khandu, have already won uncontested. Hence, voting was held for the remaining 49 seats.
There were 11 candidates for the two Lok Sabha seats and 155 for the 49 assembly seats.
BJP leader Kiren Rijiju is contesting against sitting Congress member Takam Sanjoy from Arunachal West, while union minister and Congress leader Ninong Ering faced the BJP's Tapir Gao.
Chief Minister Tuki, who voted in Sagalee under Arunachal West, exuded confidence that the Congress would retain power and both the sitting Congress Lok Sabha members would return to the lower house.
"We are confident of retaining power in Arunachal Pradesh as 11 of our candidates have already been declared winners. We are also optimistic that both our sitting MPs will retain their seats," Congress leader Luizinho Faleiro said.
The BJP is equally confident of returning to the Lok Sabha from the state after a gap of five years, and also of forming the government in the state.
"We are confident of winning both the Lok Sabha constituencies and securing more seats in the assembly that will help us lead a non-Congress government in Arunachal," state BJP president Tai Tagak said.