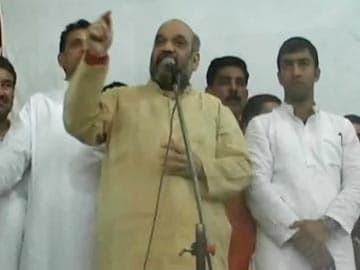 New Delhi:
The Election Commission has issued notice to
Narendra Modi's
close aide Amit Shah for his hate speeches in the riot-scarred Muzaffarnagar area in Uttar Pradesh.
Mr Shah, who is in charge of the BJP's campaign in Uttar Pradesh, had allegedly said in a speech that the election is a chance to seek "revenge for the insult" inflicted during the riots in Muzaffarnagar in September last, in which nearly 60 were killed and thousands displaced. (
Amit Shah's 'revenge' remark in riot-hit area sparks controversy
)
"In Uttar Pradesh, especially western Uttar Pradesh, this election is one of honour, it is an opportunity to take revenge and to teach a lesson to people who have committed injustice," he had said on Thursday while campaigning in Shamli, one of the areas worst hit in the riots.
At another controversial speech, he said, "(BSP leader) Mayawati gave tickets to a community that exploits you, neglects their own women, humiliates them...Those who insulted us and killed our people...can sitting with them be good for our honour? If you vote for the BJP, Narendra Modi will become PM, and Mullah Mulayam's government will fall."
He had also said, "Nobody wants riots. But when there is one-sided action, people are forced to come out of the streets."
The Election Commission has referred to these speeches and directed Mr Shah to explain them by Wednesday.
Mr Modi was seen to have attempted a damage control today, when he told the media at the release of his party's manifesto, "I will not do anything with ill intent." (
Read full manifesto
)
Sources say the Election Commission feels his comments are a violation of the election code of conduct, which bans speeches that provoke hatred between communities.(
India Votes 2014: full coverage
)