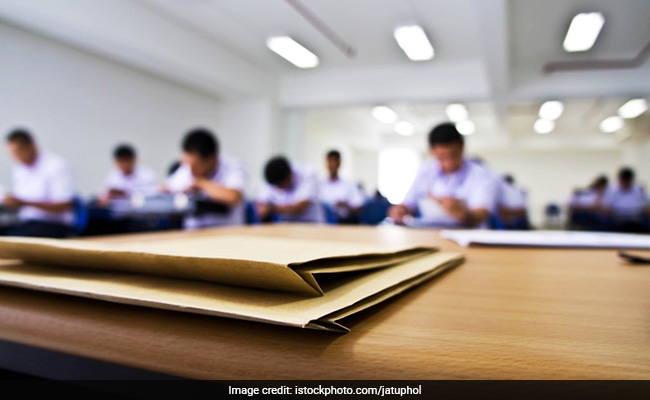 New Delhi:
Days after CBSE class 12 accountancy paper leak gripped students with panic and confusion, a similar incident has been witnessed by students appearing for board exams under Punjab State Education Board. The question paper of PSEB (Punjab School Education Board) class 12 maths exam was cancelled today after the reports of the alleged paper leak, confirmed board spokesperson to the Indian Express. Class 12 Mathematics paper will now be conducted on 31 March, it further adds.
PSEB was supposed to conduct the exam today from 2 pm. Following reports of question paper leak the Board has decided to cancel the exam.
On 15 March, few hours before the exam, images of Accountancy paper were circulated on WhatsApp. However CBSE denied that the paper was leaked even as the Delhi government ordered an inquiry into the allegations. In a statement, the board said all the seals had been found intact at exam centres. It is not known whether every centre in Delhi was checked. The CBSE said some 'miscreants tried to play mischief by circulating messages through WhatsApp and other social media to disturb the sanctity of examinations. CBSE has decided to take strict action against such activities. An FIR is being lodged, said the Board.
The exam for regular and open school students is being conducted together. The board exams for class 12 students (including open school students) has begun from February 28 and the exam for class 10 students (including open school students) began on March 12.
The exams are of 3 hours duration, except for geometrical perspective and architectural drawing. On the other hand, the paper for building construction, electronics engineering, electrical engineering, mechanical engineering, engineering drawing and N.S.Q.F. is of 2 hours duration.
In another news, PSEB had declared in January 2018, that will declare the class 10, 12 board exam results within 15 days of the completion of the same. 'The announcement has been made by Education Minister Aruna Chaudhury on Tuesday at a Press Conclave in Punjab Bhawan. Declaring the result within 15 days will not keep students waiting for it; students won't have to mention 'result awaited' in the application form for higher education,' reported the Punjab Kesari.
Click here for more
Education News