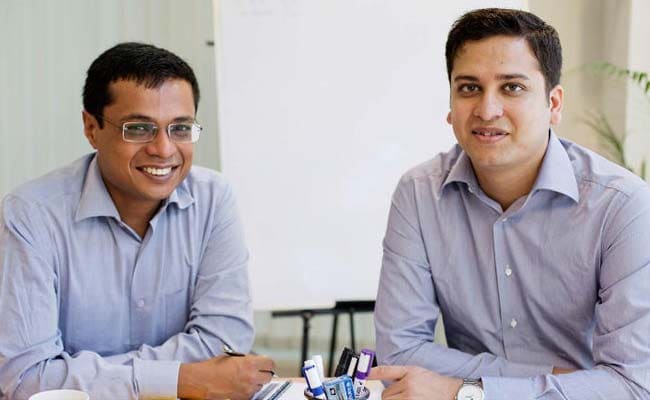 New Delhi:
The President of India, Ram Nath Kovind, launched the Endowment Fund of Indian Institute Technology (IIT) Delhi at Rashtrapati Bhavan today. According to Press Trust of India, the alumni Endowment will have an initial commitment of more than Rs 250 crore, nearly half of which will come from Flipkart co-founders -- Sachin Bansal and Binny Bansal-- , both are IIT Delhi alumni. IIT Delhi's endowment model aims to achieve a target corpus of $ 1 billion over a period of seven years.
This first-of-its-kind fund in India, according to the national capital-based premier technological and engineering Institute, will work towards the development of the University, nurturing innovation, and keeping alive the entrepreneurial spirit among the youth of India, also in the form of scholarships.
For the fund with an initial seed capital of Rs 255 crore, IIT Delhi has set an aggressive target of raising Rs 1,000 crore by 2020 and Rs 7,000 crore by 2025, PTI quoted IIT Delhi officials as saying.
Speaking on the occasion, the President said that endowments globally have become integral to the financial health of educational institutions over time.
"While we are still far from the size and importance of endowment funds of Institutions such as Harvard, Yale or Columbia, it is the right first step in this direction. By giving through endowments, alumni are not just giving to their institution but they are also supporting and nurturing future generations of learners," the President said.
The President said that the best way to honour a gift is to make the best use of it.
President of India, Ram Nath Kovind, launching IIT Delhi Endowment Fund.
"In the latest QS World University ranking 2020, IIT Delhi was ranked at 182. There is a lot of scope for improvement if it aims to be one of the top institutes in the world. It needs to increase the number of faculty particularly faculty with international experience. Additionally, it needs to upgrade its infrastructure to ensure its campus, course content and research facilities are completely world class," he said.
He expressed hope the institute will make use of the valuable contribution from the alumni to bring changes in these areas.
The President said that throughout history our educational institutes have been the beacons of our culture.
"We have a tradition of universities showing the way for the people in society and enriching lives," he said.
"While it is commendable that the alumni have been able to already commit more than 200 crores to the endowment fund, I would like you to keep in mind that giving back need not necessarily mean just financial contributions. Giving back can also be in the form of time and commitment," he added.
Delighted to launch the endowment fund of IIT Delhi.

Confident that this will act as catalyst for other institutions across the country to launch similar initiatives.

My best wishes to @IITDelhi and its alumni for taking this pioneering initiative in the country. pic.twitter.com/zaIEtRvfvV

— President of India (@rashtrapatibhvn) October 31, 2019
The initial major contributors who are founders of this Endowment and have committed to contribute more than Rs 10 Cr each have come from across the batches of IIT Delhi starting from Bansals of Flipkart (Batch of 2007); Sandeep Singhal and Kavita Iyer, co-founder of WestBridge Capital and Sequoia Capital India, and trustees of SIFF respectively (1992 & 1994); Arun Duggal, Director, ICRA (1969) and Vikram Gupta, Founder and Managing Partner, IvyCap Ventures (1993).
Other founders are: Amarjit Bakshi, Founder and Managing Director, Central Park (1967); Saurabh Mittal, Founder and Chairman, Mission Holdings (1994); Neeraj Arora, ex-CBO, WhatsApp (2000); Sashi Reddi, Founder, SRI Capital (1987); Dr. Amar Sawhney, President and CEO of I-Therapeutix Inc (1987); Jassi Chadha, Founder, Axtria and marketRx (1990); Ranu Vohra, co-founder, Avendus (1993); Sujeet Kumar, Co-founder, Udaan (2003).

Other significant contributors who have committed to more than Rs 5 crores are SK Jain, co-founder of WestBridge Capital (1993) and Gaurav Kushwaha, Founder and CEO, BlueStone (2001).
"This Endowment Fund is a testimony of our efforts to ensure the right support is provided both in terms of academic guidance and infrastructure to make ready for the future workforce. Such endowments also allow institutions like ours to confidently engage in long-term planning without sustainability risk to critical projects. This will also put IIT Delhi on the global map for education along with the prominent foreign universities," said Prof. V. Ramgopal Rao, Director, IIT Delhi.
Click here for more Education News