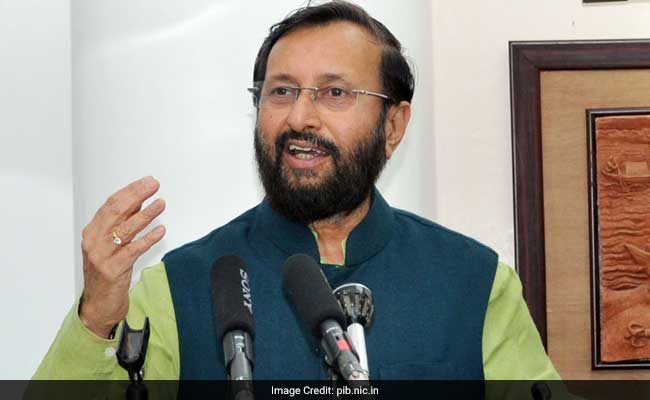 New Delhi:
The Union Cabinet, in a landmark decision, has approved the setting up of 'National Testing Agency (NTA)'. The NTA would be the sole authority to conduct entrance examinations for higher education institutions. The move has lauded and called 'historic' by the Union HRD Minister Prakash Javadekar. An official statement said that NTA would initially take over the exams which are currently being organized by CBSE.
At present Central Board of Secondary Education (CBSE) conducts nine diferent examinations which include the most coveted JEE Main conducted for undergraduate engineering programmes, NEET-UG conducted for undergraduate medical and dental programmes on behalf of Medical Council of India and Health Ministry, NET conducted on behalf of UGC.
Other key exmas which fall in the ambit of CBSE right now are Central Teacher Eligibility Tets (CTET), and Jawahar Navodaya Vidyalaya (JNV) Admission Test.
Prakash Javadekar welcomed the decision in three successive tweets and said that it was a much needed education reform.
Cabinet approves creation of #NationalTestingAgency , a single agency to conduct all entrance exams for HE institutions. With experts on board, it will bring in high reliability, standardised assessing aptitude & conduct of tamper-proof exams (1/3)

— Prakash Javadekar (@PrakashJavdekar) November 10, 2017
#CBSE as of now conducts 9-Types of exams including CTET, UGC NET, JEE Mains, NEET, JNV admission with about 70L students appearing in them. #NationalTestingAgency will take off the burden of conducting entrance exams from #CBSE (2/3)

— Prakash Javadekar (@PrakashJavdekar) November 10, 2017
Setting up of #NationalTestingAgency is a historic decision and a much needed education Reform (3/3)

— Prakash Javadekar (@PrakashJavdekar) November 10, 2017
The official statement said that NTA would relieve CBSE, AICTE and other educational agencies from conducting these entrance examinations.
The statement said that NTA would help bring high reliability and standardised difficulty level for assessing the aptitude, intelligence, and problem-solving abilities of the students.
The exams will be conducted online and at least twice a year, thus providing an opportunity to students to give their best performance.
To facilitate students in rural areas, the agency would locate exam centres at sub-district/district level and as far as possible would undertake hands-on training exercise for the students.
The release also said that NTA would be given a one time grant of Rs. 25 crore from the government for operation in the first year after which it will be self-sustainable.
The agency will be chaired by an educationist who will be appointed by Human Resource Development Ministry.
It is speculated that the NTA, an autonomous organisation, will benefit about 40 lakh studentswho appaer in various entrance examinations.
In view of the need to have a specialised body in India like the most advanced countries, the finance minister in the Budget speech of 2017-18, had announced setting up of NTA to conduct all entrance examinations for higher educational institutions.
(With Inputs from PTI)
Click here for more
Education News