New Delhi:
Jawaharlal Nehru University (JNU) student Najeeb Ahmed went missing after an altercation with some students belonging to the Akhil Bharatiya Vidyarthi Parishad (ABVP) in the campus last October. Later, students of the RSS-affiliated ABVP denied any involvement in his disappearance. A student of the university's School of Biotechnology, Najeeb Ahmed, 27, had gone missing on 15 October following an on-campus scuffle allegedly with ABVP members the night before. Though he had secured admission in several universities, eventually, opted for JNU where he joined for post graduation on August 1 last year.
Exactly a year after he went missing from the campus, the Central Bureau of Investigation (CBI), which had taken over the probe into the case from the city police, remains clueless.
After over a month had passed since Najeeb Ahmed went missing, his mother, Fatima Nafees, moved the Delhi High Court, seeking directions to the police to trace her son.
JNU Student Najeeb Ahmed Missing For Last One Year: A Time Line Of Events
October 15, 2016
: Najeeb Ahmed resident of room 106 of Mahi/Mandavi hostel, goes missing allegedly after an altercation with a few students on Saturday night. It has since been alleged by many eyewitnesses that the group of students who had beaten up Najeeb belonged to ABVP, an RSS student wing, reported IANS.
October 31, 2016
: The Delhi government assures Najeeb Ahmed's family all help and assistance to trace him.
November 6, 2016
: Massive protests in New Delhi over the issue. The mother and sister of Najeeb Ahmed,
were manhandled and detained
when they, along with agitating students, tried to take out a protest march to India Gate.
November 8, 2016
: Fatima Nafees, the mother of Najeeb Ahmed, meets Union Home Minister Rajnath Singh and Lieutenant-Governor Najeeb Jung.
November 16, 2016
: Delhi Police claimed to have made some breakthrough into what transpired on October 15, the day of his disappearance, Ravindra Yadav, Joint CP (Crime), said his team's investigations helped trace the auto driver whose three-wheeler was apparently hired by Najeeb outside the JNU, reported The Hindu.
November 20, 2016
: A proctorial enquiry by JNU has found an ABVP member guilty of assaulting Najeeb Ahmed. Coming out in support of its member, the ABVP has accused the university administration of conducting a "biased" probe.
November 28, 2016
: The Delhi Police raises the reward amount to Rs. 10 lakh from Rs. 5 Lakh for anyone providing information that could help locate Najeeb Ahmed. Initially, the reward amount was Rs. 50,000. Later on, it was increased to Rs. 1 lakh and subsequently to Rs. 2 lakh last month.
December 19, 2016:
More than
600 Delhi Police personnel, mounted police among them, with 10 sniffer dogs combed the JNU campus in search for Najeeb Ahmad
.
January 22, 2017
: A 20-year-old arrested for making ransom calls to a relative of Najeeb Ahmed assuring the family of his release.
January 24, 2017
: Chief Proctor AP Dimri, a top JNU official who was leading the inquiry into Najeeb Ahmed's case besides other disciplinary issues on campus, resigned from the post allegedly over some differences with administration prompting the varsity to appoint his replacement. Sources told PTI that Mr. Dimri had differences with the administration over handling of a few disciplinary issues on campus, including the altercation between two groups following which Najeeb went missing.
January 28, 2017
: The family accuses Delhi Police of harassing them during a pre-dawn search in their house in Badaun, a charge refuted by the agency saying it was working on a clue to trace him.
March 16, 2017
: 'Except for paperwork and wasting of time and public money, nothing else is happening in the probe,' the Delhi High Court said while hearing the case. "One way or the other we want an answer. If he is dead, say he is dead. We won't accept paperwork. Do whatever you have to. Find him," the bench said and warned "else we will have someone else here".
May 16, 2017
: The high court orders the CBI to take over the probe into the mysterious circumstances surrounding the disappearance of the student.
September 6, 2017
: The Delhi High Court directs the CBI to take necessary steps to trace Najeeb Ahmed. The high court gave its direction after examining the status report filed by the CBI. The agency, in its report, gave details of the steps taken by it to trace the student and sought time to conclude the probe.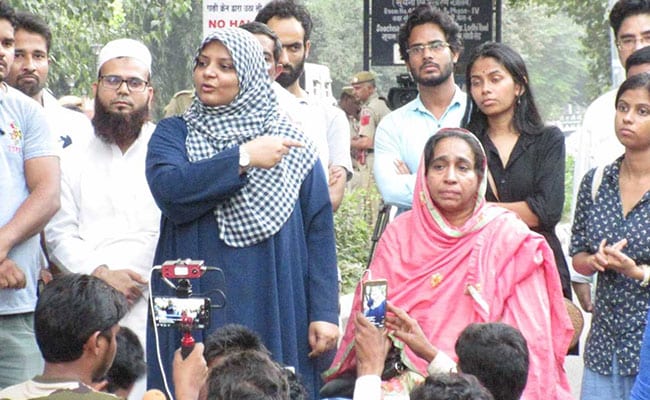 October 13, 2017:
More than 200 students started a protest outside the CBI headquarters in New Delhi, demanding to know the status of the inquiry into the case along with Najeeb Ahmed's mother mother, Fatima Nafees. The protestors also called for a faster investigation into the case.
October 16, 2017
: The Delhi High Court today said "there is complete lack of interest" on the CBI's part in probing the case. A bench of Justices G S Sistani and Chander Shekhar observed that there was "no result either ways. No result even on paper". The strong remarks by the bench came after contradictions appeared in what the CBI said in court and what it had indicated in its status report on the issue of analysis of the calls and messages of the suspect students in the case.
October 25, 2017:
A court in New Delhi on said it will hear on October 27 a CBI plea for polygraphy tests on nine students in connection with the missing Jawaharlal Nehru University student Najeeb Ahmed, reported IANS. Seven of these students appeared before Chief Metropolitan Magistrate Deepak Sherawat in pursuance to summons issued against them while the remaining two were represented by their counsel.
(With Inputs from PTI and IANS)
Click here for more
Education News
Get Breaking news, live coverage, and Latest News from India and around the world on NDTV.com. Catch all the Live TV action on NDTV 24x7 and NDTV India. Like us on Facebook or follow us on Twitter and Instagram for latest news and live news updates.